The parakeet Brotogeris tirica feeds on and disperses the fruits of the palm Syagrus romanzoffiana in Southeastern Brazil
Keywords:
Bird-plant symbiosis, Psittacidae, Arecaceae, feeding behaviour, synzoochory
Abstract
Small psittacids remain unrecorded as dispersal agents of palm fruits in Brazil. I record here the plain parakeet (Brotogeris tirica), an Atlantic forest endemic, feeding on and dispersing the fruits of the palm Syagrus romanzoffiana at Ubatuba, northern coast of São Paulo, Southeastern Brazil. The birds removed the fruit and carried it away from the mother-tree in about 40% of the feeding records. While perched on trees and shrubs of the understorey, the parakeets removed and ingested most of the mesocarp, dropping the partly consumed fruit. As the parakeets damaged no the embryo and may feed at a distance from the mother-tree, they act as primary dispersal agents. This is the first substantiated record of a small Neotropical psittacid as a stomatochorous dispersal agent of palm fruits the size of A. romanzoffiana drupes.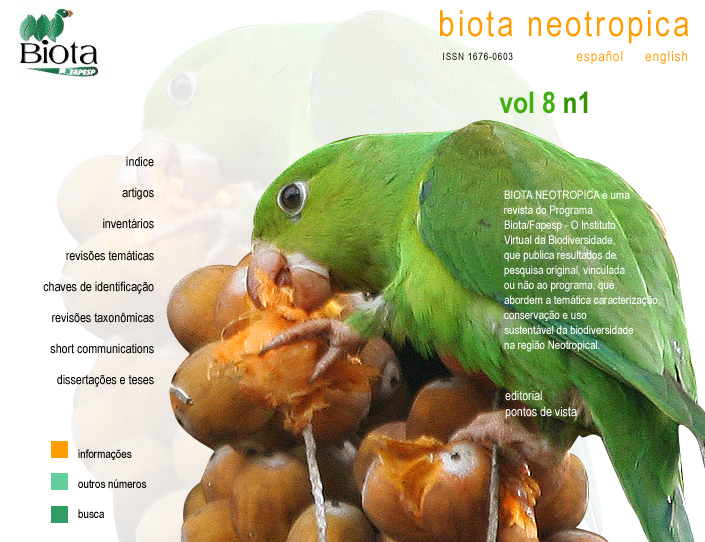 How to Cite
Sazima, I. (2008). The parakeet Brotogeris tirica feeds on and disperses the fruits of the palm Syagrus romanzoffiana in Southeastern Brazil. Biota Neotropica, 8(1). Retrieved from https://www.biotaneotropica.org.br/BN/article/view/383
Section
Short Communications