Anting behaviour with millipedes by the dendrocolaptid bird Xiphocolaptes albicollis in southeastern Brazil
Keywords:
Aves, Dendrocolaptidae, anting behaviour, foraging behaviour, millipedes, toxic secretion, "Xiphocolaptes albicollis"
Abstract
Several bird species practice anting. While anting a bird holds an ant or other arthropod that produces toxic or irritating secretions and rubs it on the plumage. Here I describe the White-collared Woodcreeper (Xiphocolaptes albicollis) rubbing its body with millipedes of the orders Spirostreptida and Polydesmida while foraging among banana stumps or at bromeliad clumps in southeastern Brazil. On three occasions I recorded the bird holding a millipede in the bill and rubbing it against its chest, belly, and wings. From time to time the millipede was "chewed", and hammered against the substratum and then rubbed on the plumage again. After a while the millipede was ingested or dropped. Bromeliads harbour a rich fauna that includes mosquitoes, ticks, spiders, and snakes, and some of them may be potential hazards to birds that forage among the accumulated plant debris. The toxic secretions of millipedes may act as a deterrent against some of these hazardous animals, and the woodcreeper's behaviour also reduces the noxiousness of a toxic prey before ingestion.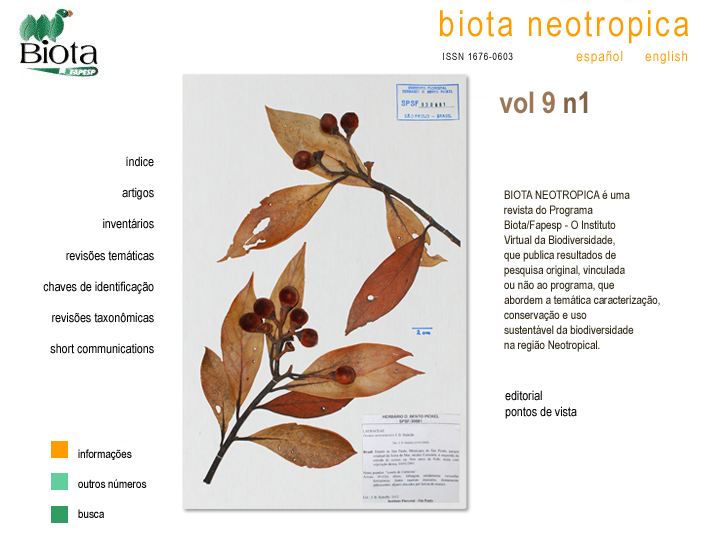 How to Cite
Sazima, I. (2009). Anting behaviour with millipedes by the dendrocolaptid bird Xiphocolaptes albicollis in southeastern Brazil. Biota Neotropica, 9(1). Retrieved from https://www.biotaneotropica.org.br/BN/article/view/471
Section
Short Communications