First confirmed record of Feresa attenuata (Delphinidae) for the Northern Brazilian Coast
Keywords:
stranding, pygmy killer whale, Maranhão State, Brazil
Abstract
In Brazil only one confirmed stranding is known from an emaciated specimen collected along the southeastern coast. The aim of this work is to report a recent record of a pygmy killer whale from the coast of Maranhão State, northern Brazil. On 22 October 2005, through regular surveys conducted by Projeto Cetáceos do Maranhão team, a beach-worn skull of a pygmy killer whale was found on the Mangue Seco beach, at Caju Island, Maranhão State. The specimen was identified through peculiar features, such as a short beak, 11 teeth per row in the maxile and the distance between the anterorbital notch and the end of the toothrow. This stranding suggests that pygmy killer whales may use oceanic waters close to Maranhão continental shelf. This is the second confirmed stranding of F. attenuata for the Brazilian Coast and the first along the northern coast. The present record increases our poor knowledge on the cetacean fauna of the northern Brazilian coast.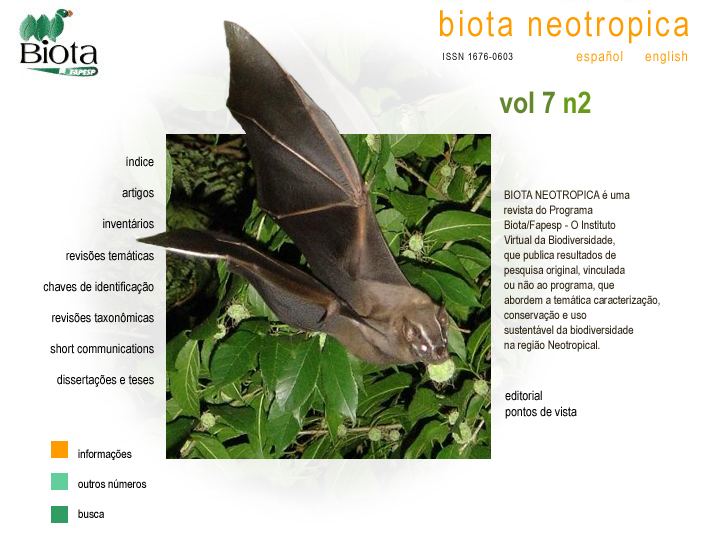 How to Cite
Magalhães, F. A. de, Garri, R. G., Tosi, C. H., Siciliano, S., Chellappa, S., & Silva, F. J. de L. (2007). First confirmed record of Feresa attenuata (Delphinidae) for the Northern Brazilian Coast. Biota Neotropica, 7(2). Retrieved from //www.biotaneotropica.org.br/BN/article/view/312
Section
Short Communications