Extension of the distribution of four bat species (Mammalia, Chiroptera) in Rio Grande do Sul, Brazil
Keywords:
distribution, Histiotus montanus, Myotis ruber, Nyctinomops laticaudatus, Pygoderma bilabiatum
Abstract
The objective of this paper is to record the occurrence of four bats species in the central of the Rio Grande do Sul State, south of Brazil: Histiotus montanus, Pygoderma bilabiatum, Nyctinomops laticaudatus and Myotis ruber. Data were obtained from the scientific collection of Universidade Federal de Santa Maria (UFSM) and represent distribution extensions for these bat species in this State. We present information on the habitat where the species were collected, showing that some of them are new for this species. Some of the studied species may be considered rare in the Rio Grande do Sul State, whereas others should have their degree of threat revaluated.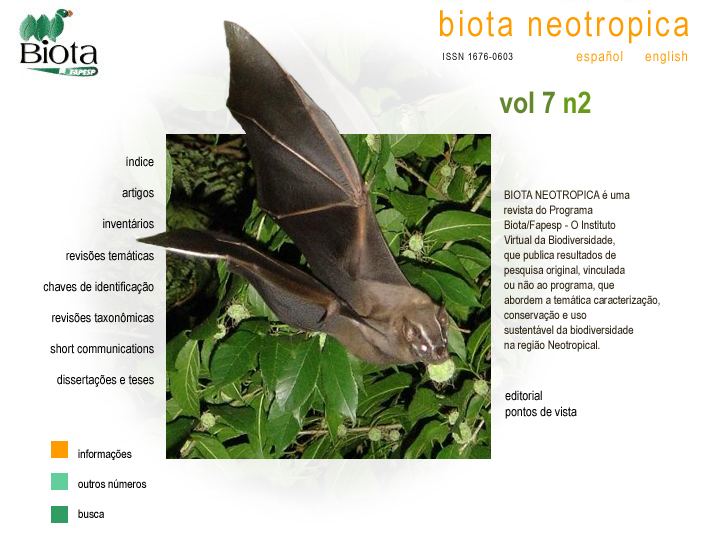 How to Cite
Weber, M. de M., Arruda, J. L. S. de, & Cáceres, N. C. (2007). Extension of the distribution of four bat species (Mammalia, Chiroptera) in Rio Grande do Sul, Brazil. Biota Neotropica, 7(2). Retrieved from //www.biotaneotropica.org.br/BN/article/view/308
Section
Short Communications