Predatory mites (Acari) associated with strawberry and neighboring plants in the State of Rio Grande do Sul
Keywords:
biodiversity, Phytoseiidae, Phytoseiulus macropilis, Neoseiulus californicus
Abstract
The aim of this study was to determine the species predatory mites on strawberry crop and associated plants in the State of Rio Grande do Sul. It was conducted in Bom Princípio, Capitão and Lajeado counties, in crops of strawberry Oso Grande variety in low tunnels. The evaluations were done monthly between August 2002 and March 2004. In the plants of strawberry, the samples were constituted of three leaves collected in each of 15 plants taken randomly, totaling 45 leaves/field. In the associated plants, the sampling effort was of one hour for each plant evaluated. Mites of the families Ascidae, Parasitidae, Phytoseiidae, Cunaxidae, Erythraeidae, Stigmaeidae and Tydeidae were observed associated with the two-spotted spider mite, Tetranychus urticae Koch, 1836, important pest of this crop in the region where the study was conducted. Twenty species were identified, 14 of which belong to the family Phytoseiidae. Phytoseiulus macropilis (Banks, 1905) and Neoseiulus californicus (McGregor, 1954) were the most common species. On associated plants, the highest diversity of predatory mites was found on Richardia sp. (six mite species), Agerantum conyzoides L. (four mite species) and Sonchus oleraceus L., Bidens pilosa L. and Rumex sp. (three mite species). A dichotomous key is presented for the separation of the species collected.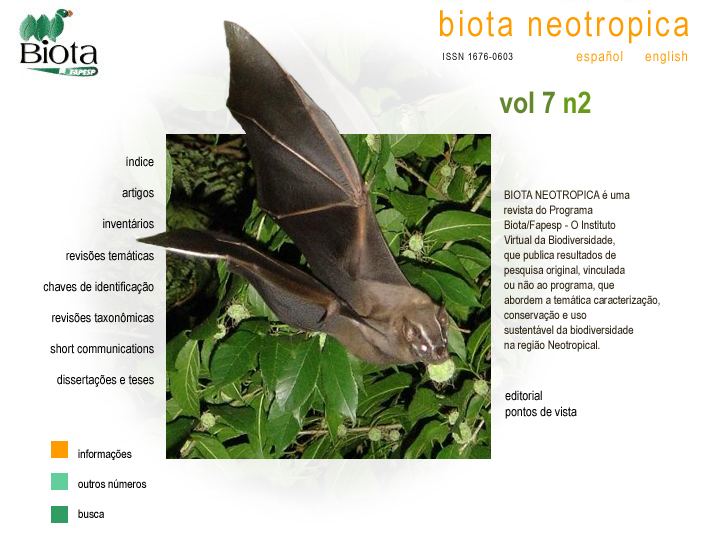 How to Cite
Ferla, N. J., Marchetti, M. M., & Gonçalves, D. (2007). Predatory mites (Acari) associated with strawberry and neighboring plants in the State of Rio Grande do Sul. Biota Neotropica, 7(2). Retrieved from //www.biotaneotropica.org.br/BN/article/view/288