Redescription and osteology of Bryconamericus exodon Eigenmann, 1907 (Ostariophysi, Characiformes, Characidae)
Keywords:
palatine fenestra, teeth, premaxillary, third postcleithrum, dorsal-fin rays, color pattern
Abstract
The redescription of B. exodon Eigenmann (1907), type species of Bryconamericus, an osteological description for the species, a comparison with other characiform fishes, and comments about its relationships among other characids are presented. Bryconamericus exodon is easily distinguished from other species in the genus by possessing upper and lower caudal-fin lobes dark brown; it is proximate to other Bryconamericus species that possess: an elongated and low body, its depth less than 30% of standard length, mouth terminal, and teeth of external premaxillary series not aligned. Furthermore it shares with other Characidae a palatine fenestrate, perforated or shallowed in its medial, anterior, portion, and a third postcleithrum elongated and equally wide along its entire length, character states proposed as additional synapomorphies for the characids with ii, 8 dorsal-fin rays and four teeth in the internal premaxillary series.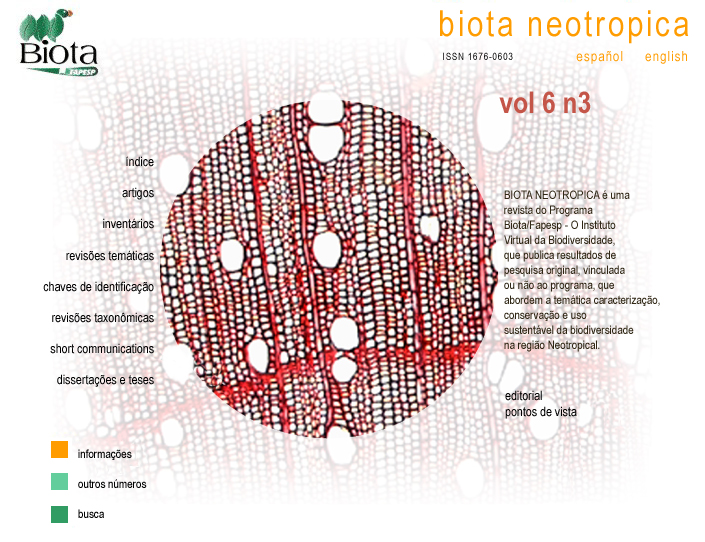 How to Cite
Serra, J. P., & Langeani, F. (2006). Redescription and osteology of Bryconamericus exodon Eigenmann, 1907 (Ostariophysi, Characiformes, Characidae). Biota Neotropica, 6(3). Retrieved from https://www.biotaneotropica.org.br/BN/article/view/241