Catfishes as prey items of Potamotrygonid stingrays in the Solimões and Negro rivers, Brazilian Amazon
Keywords:
diet, feeding, freshwater stingrays, Myliobatiformes, Siluriformes
Abstract
In spite of the fact that catfish have rarely been reported as food items in the diets of freshwater stingrays, they are commonly observed in the stomach contents of species inhabiting the Solimões and Negro rivers in the Brazilian Amazon. The stomach contents of six rays from the Solimões River and 64 from the Negro River were analyzed, and catfishes (distributed among the families Callichthyidae, Cetopsidae, Doradidae and Loricariidae) were found in the stomach contents of four and 10 of these rays, respectively, comprising a frequency of occurrence of 20%. These data indicate a relevant participation of catfishes in the diets of potamotrygonid rays in the Amazon, and may reflect the regional diversity and abundance of Siluriformes in the region.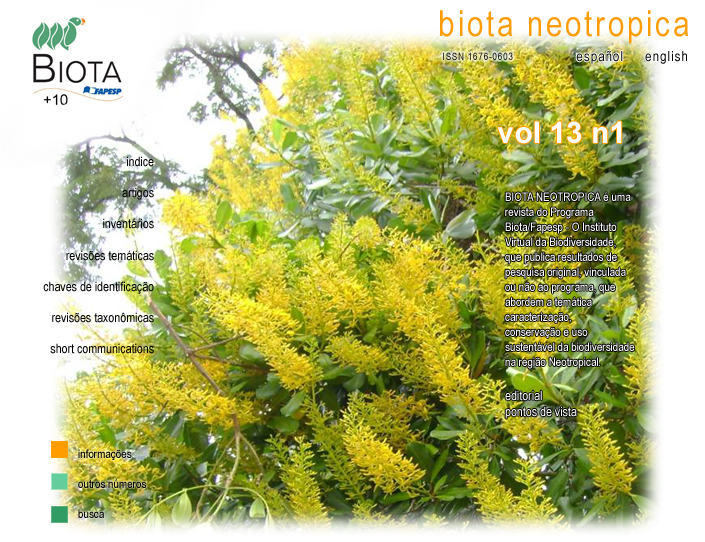 How to Cite
Shibuya, A., & Zuanon, J. (2013). Catfishes as prey items of Potamotrygonid stingrays in the Solimões and Negro rivers, Brazilian Amazon. Biota Neotropica, 13(1). Retrieved from //www.biotaneotropica.org.br/BN/article/view/1088
Section
Short Communications