Coleopterans (Hexapoda, Coleoptera) associated with canopies of Callisthene fasciculata (Spr.) Mart. (Vochysiaceae) in the Brazilian Pantanal
Keywords:
Beetles, Biodiversity, Seasonality, Wetlands
Abstract
Abstract: The study of coleopteran assemblages associated with the canopies of tropical forests can help to expand the knowledge about species diversity and the ecological patterns related to the distribution of this diversity in tropical environments, including wetlands such as the Brazilian Pantanal. In this scenario, the present study examined the effect of temporal variation on the abundance, richness and distribution of the Coleoptera assemblage associated with canopies of Callisthene fasciculata (Spr.) Mart. (Vochysiaceae) throughout the dry and high-water seasonal periods in the Northern Pantanal of Mato Grosso, Brazil. Twelve specimens of C. fasciculata were sampled between 2010 and 2011, six per seasonal period, by thermal fogging with insecticide. A total of 1,663 coleopterans were collected, consisting of 1,572 adults and 91 larvae. The adults are distributed into 38 families and 251 species or morphospecies. Chrysomelidae, Curculionidae, Nitidulidae and Tenebrionidae predominated in terms of abundance and richness. Family distribution, abundance, species richness and trophic guilds varied between the dry and high-water periods, demonstrating a relationship with the phenological conditions of C. fasciculata in addition to seasonality effect. In conclusion, the seasonality imposed by the hydrological regime and its influence on the phenology of C. fasciculata affect the structure of the coleopteran assemblage associated with the canopy of this monodominant vegetation formation in the Pantanal of Mato Grosso.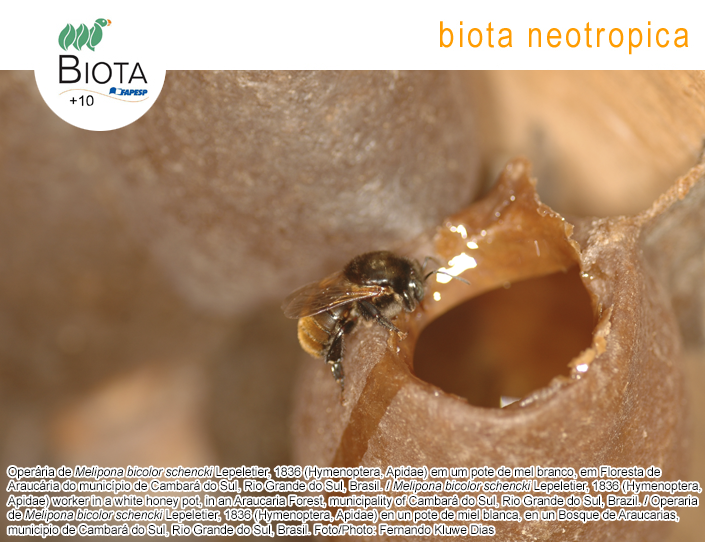 How to Cite
Yamazaki, L., Vindica, V. F., Rosado-Neto, G. H., Marques, M. I., & Battirola, L. D. (2021). Coleopterans (Hexapoda, Coleoptera) associated with canopies of Callisthene fasciculata (Spr.) Mart. (Vochysiaceae) in the Brazilian Pantanal. Biota Neotropica, 21(1). Retrieved from https://www.biotaneotropica.org.br/BN/article/view/1780