Common Vampire Bat (Desmodus rotundus) feeding on Lowland Tapir (Tapirus terrestris) in an Atlantic Forest remnant in southeastern Brazil
Keywords:
camera trap, Chiroptera, hematophagy, micro predator, Sooretama Biological Reserve
Abstract
Abstract There are few studies on the diet of Common Vampire Bat (Desmodus rotundus), despite its wide geographic distribution. The species is considered exclusively hematophagous, and medium and large-sized mammals are their main prey. In this study we report evidences of Common Vampire Bat feeding on Lowland Tapir (Tapirus terrestris) in a protected area located in the north of the state of Espírito Santo, southeastern Brazil, from camera trap records. The bat tried to access the Lowland Tapir by the posterior dorsolateral side of the body, and used the mean stratum of the vegetation as a point of support and observation between the consecutive offensives on the prey. In the same reserve, there were also two events of bat offensives on domesticated ox (Bos sp.). But in these cases the attacks occurred from the scapular region of the prey. The record here reported represents the first documented attack of Desmodus rotundus on Tapirus terrestris in the Brazilian Atlantic Forest and one of the first records in the South America as a whole. Previous records were in the Pantanal (Brazil) and in the Amazon rainforest (Ecuador). The feeding on wild and domestic prey by Desmodus rotundus in the same locality may favor the transmission of rabies to populations of wild mammals, as well as to domestic animals, and may represent an economic and public health issue with negative effects also for wildlife.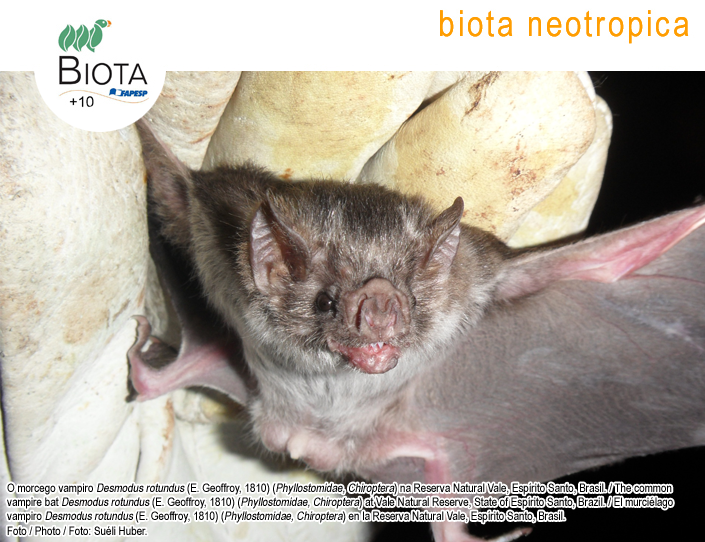 How to Cite
Gnocchi, A. P., & Srbek-Araujo, A. C. (2017). Common Vampire Bat (Desmodus rotundus) feeding on Lowland Tapir (Tapirus terrestris) in an Atlantic Forest remnant in southeastern Brazil. Biota Neotropica, 17(3). Retrieved from https://www.biotaneotropica.org.br/BN/article/view/1448
Section
Short Communications