Do we underestimate the impact of roads on arboreal animals? Roadkill as an important threat to Chaetomys subspinosus (Mammalia: Rodentia)
Keywords:
Atlantic Forest, protected areas, road ecology, Thin-spined Porcupine
Abstract
Abstract: The Thin-spined Porcupine (Chaetomys subspinosus) is a medium-sized and mainly arboreal rodent, endemic to the Brazilian Atlantic Forest, and threatened with extinction. Habitat loss, hunting, forest fires, agriculture and livestock are threats identified for the species. Here we raise the alert to the impact of roads on remaining populations of C. subspinosus based on roadkill records from the state of Espírito Santo, southeastern Brazil. Mortality due to roadkill is likely to impact C. subspinosus in different regions of the state, and is a widespread problem, not unique to a single location or population. The pattern of roadkills in the studied regions suggest that the species is more susceptible to collisions with vehicles in the breeding period. Additionally, concrete barriers that divide lanes on highways seens to increase the likelihood of roadkill for Thin-spined Porcupines. We recommend that roadkill should be included in the list of threats to C. subspinosus in the Espírito Santo. Mortality due to roadkill is probably relevant also for populations in the states of Bahia and Sergipe, and it should be evaluated locally. The installation of road-crossing structures for wildlife, such as arboreal overpasses, is recommended on roads crossing or close to protected areas with C. subspinosus presence in Espírito Santo and elsewhere.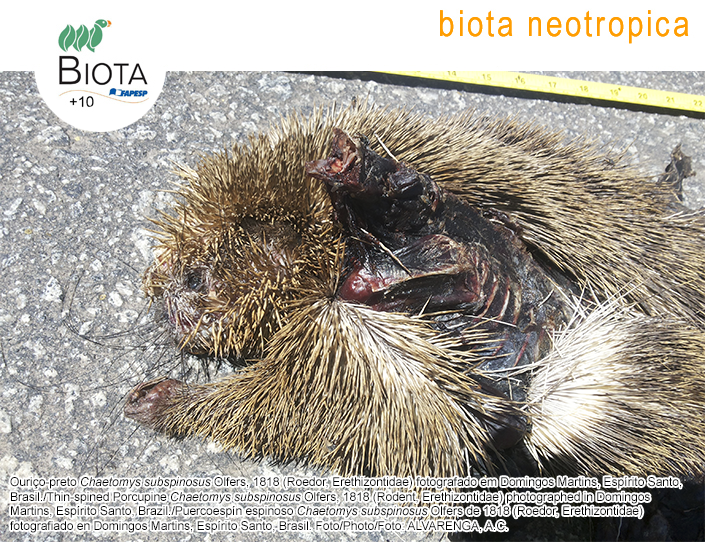 How to Cite
Srbek-Araujo, A. C., Alvarenga, A. de C., & Bertoldi, A. T. (2018). Do we underestimate the impact of roads on arboreal animals? Roadkill as an important threat to Chaetomys subspinosus (Mammalia: Rodentia). Biota Neotropica, 18(3). Retrieved from https://www.biotaneotropica.org.br/BN/article/view/1527
Section
Short Communications