Inventory of mollusks from the estuary of the Paraíba River in northeastern Brazil
Keywords:
Biodiversity, Mollusca, Gastropoda, Bivalvia, Cephalopoda, tropical coastal ecosystems
Abstract
Abstract: Coastal ecosystems of northeastern Brazil have important biodiversity with regard to marine mollusks, which are insufficiently studied. Here we provide an inventory of mollusks from two sites in the estuary of the Paraíba River. Mollusks were collected in 2014 and 2016 on the coast and sandbanks located on the properties of Treze de Maio and Costinha de Santo Antônio. The malacofaunal survey identified 12 families, 20 genera and 21 species of bivalves, 17 families, 19 genera and 20 species of gastropods and one species of cephalopod. Bivalves of the family Veneridae Rafinesque, 1815 were the most representative, with a total of five species. Gastropods of the family Littorinidae Children, 1834 had the greatest species richness. The most abundant species were: Neritina virginea (Linnaeus, 1758), Brachidontes exustus (Linnaeus, 1758), Crassostrea brasiliana (Lamarck, 1819), Cerithium atratum (Born, 1778), Anomalocardia brasiliana (Gmelin, 1791), Parvanachis obesa (C. B. Adams, 1845), Phrontis polygonata (Lamarck, 1822), Littoraria angulifera (Lamarck, 1822), L. flava (King, 1832), Tagelus plebeius (Lightfoot, 1786), Echinolittorina lineolata (d'Orbigny, 1840) and Iphigenia brasiliensis (Lamarck, 1818). The results show that the study area has considerable species richness of Mollusca, requiring environmental monitoring in the region mainly due to the economic importance of some species to the local population.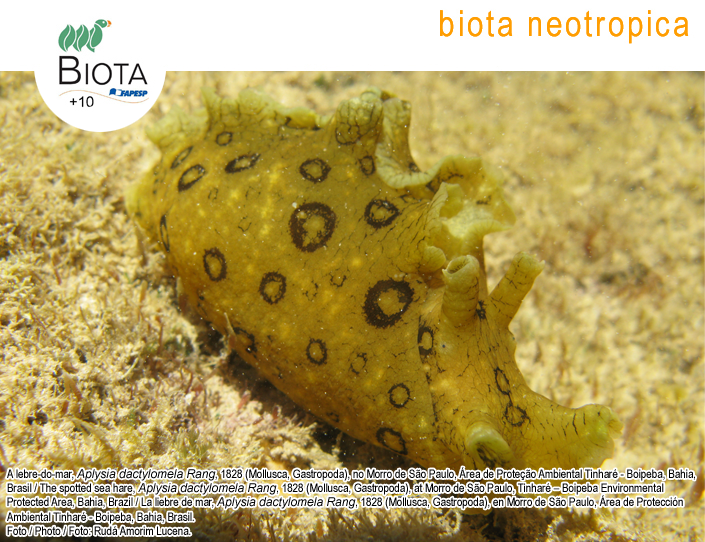 How to Cite
Lima, S. F. B., Lucena, R. A., Santos, G. M., Souza, J. W., Christoffersen, M. L., Guimarães, C. R., & Oliveira, G. S. (2017). Inventory of mollusks from the estuary of the Paraíba River in northeastern Brazil. Biota Neotropica, 17(1). Retrieved from https://www.biotaneotropica.org.br/BN/article/view/1423