Aranhas sinantrópicas em três bairros da cidade de Salvador, Bahia, Brasil (Arachnida, Araneae)
Keywords:
synanthropic, spiders, residences, Salvador
Abstract
In order to evaluate which are the synanthropic spiders of Salvador and also to know if there exists any relationship between spider composition and time of urban occupation, this study analized 677 spiders, captured in three city neighbourhoods with different urbanization times: Santo Antonio Além do Carmo (300-400 years), Itapuã (100-300 years) and Pituba (less than 50 years). Sample size inside and outside of residences was calculated based on 10% district census and collections were carried out always by six collectors, who were also responsible for the interviews, totalling a sampling effort of 30 minutes/residence (n=71), from November/2002 to June/2003. Of a total of 329 adults, 13 species and 17 morfo-species distributed in 10 families, were recognized. Pholcidae (n=256), Oecobiidae (n=184) and Uloboridae (n=59) were the most abundant families. Oecobius concinnus, the only one Oecobiidae, appeared restricted to recent districts. Its unexpected absence in the oldest district suggests the existence of some limiting factor, that shows the need of more investigation on this poorly known species. In contrast, Smeringopus pallidus was more frequent in the oldest district and Physocyclus globosus (Pholcidae) occured in all three. There was significant differences in species abundance and structural organization of residences between the more ancient and the more recent districts. Thus, we suggest that the fact that the buildings structure remained untouched throughout the years is as a factor that favours the permanence of these species.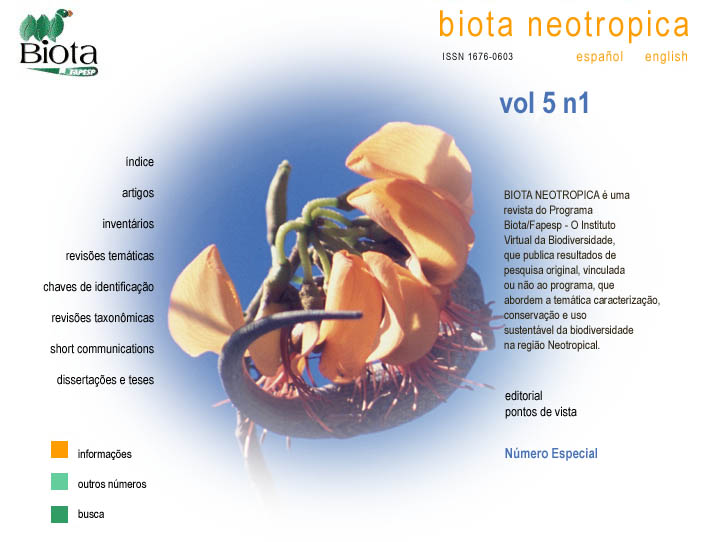 How to Cite
Brazil, T. K., Almeida-Silva, L. M., Pinto-Leite, C. M., Lira-da-Silva, R. M., Peres, M. C. L., & Brescovit, A. D. (2005). Aranhas sinantrópicas em três bairros da cidade de Salvador, Bahia, Brasil (Arachnida, Araneae). Biota Neotropica, 5(1). Retrieved from //www.biotaneotropica.org.br/BN/article/view/133