Ocorrência de Rhopalurus debilis (C.L. Koch, 1840) (Scorpiones, Buthidae) no estado da Bahia, Brasil
Keywords:
Distribution, Scorpion, Rhopalurus debilis, Bahia, Brazil
Abstract
This work reports the occurrence of Rhopalurus debilis (C.L. Koch, 1840), in the state of Bahia, Brazil, adding a species to its escorpiofauna and highlighting the importance of carrying out regional studies on these animals. Seven scorpions (2 males, 4 females and 1 young) were collected in the city of Curaçá (08º 59º 31ºS/39º 54º 29ºW), from March 14th to 16th, 2003. They were recorded in the Núcleo Regional de Ofiologia e Animais Peçonhentos da Bahia (NOAP) and included in the Scientific Collection of Scorpions of the Federal University of Bahia. These specimens represent a new record of this species in the right riverbank of the São Francisco river.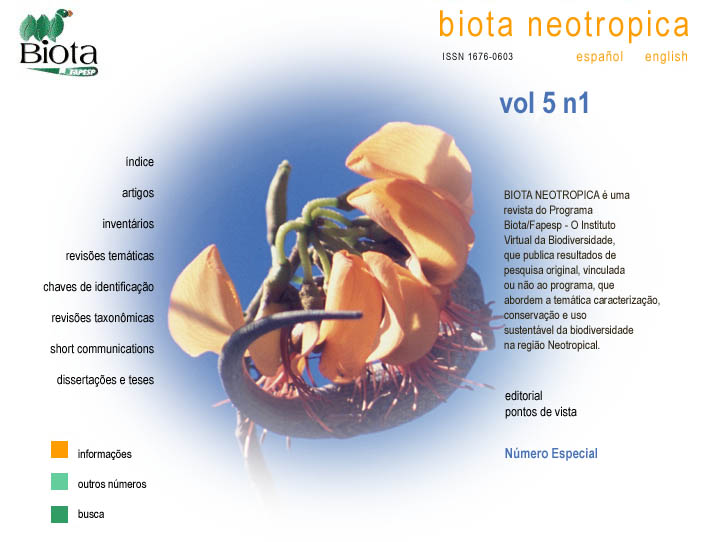 How to Cite
Lira-da-Silva, R. M., Jordão, G. M., Silva, T. F., Candido, D. M., & Brazil, T. K. (2005). Ocorrência de Rhopalurus debilis (C.L. Koch, 1840) (Scorpiones, Buthidae) no estado da Bahia, Brasil. Biota Neotropica, 5(1). Retrieved from //www.biotaneotropica.org.br/BN/article/view/140
Section
Short Communications