Gall-inducing insects from Serra do Cabral, Minas Gerais, Brazil
Keywords:
biodiversity, biogeography, herbivore, host plant, insect-plant interaction
Abstract
Our goal was describe the gall richness through the characterization of their external shapes and occurrence patterns in their host plants from Parque Estadual da Serra do Cabral. In a universe of 34 families, 64 genera and 89 plant species, 47 gall-inducing insects in 21 families, 32 genera and 39 host plant species were recorded. The families, which hosted higher gall richness, were those with highest abundance. Asteraceae represented 33% of the species collected followed by Malpighiaceae 8% and Fabaceae 8%, each one concentrating 25%, 19% and 8% of gall-inducing insects, respectively. The organ most attacked was the leaf (51%), followed by the stem (42%) and the terminal branch (4%). Ninety-six percent (96%) of galls were glabrous. Only 25.5% of the galls described in our study have been already recorded in previous studies, reinforcing the need to increase the sampling effort toward a better understanding of the richness, distribution, and natural history of gall-inducing insects from Brazil.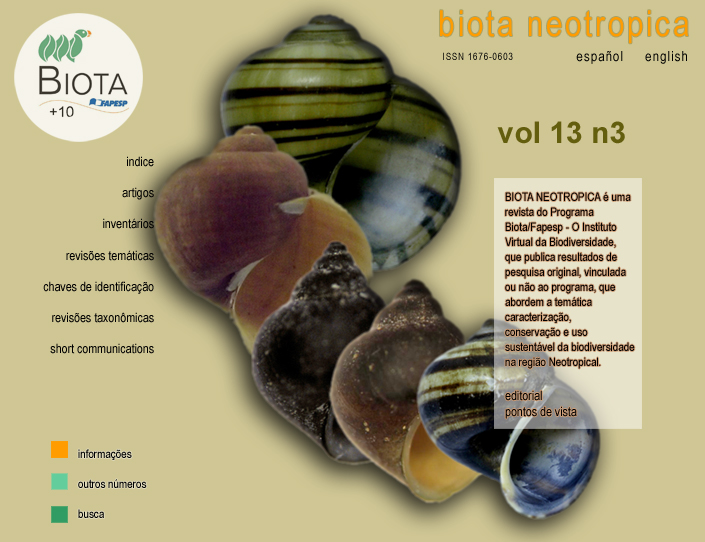 How to Cite
Coelho, M. S., Carneiro, M. A. A., Branco, C. A., & Fernandes, G. W. (2013). Gall-inducing insects from Serra do Cabral, Minas Gerais, Brazil. Biota Neotropica, 13(3). Retrieved from //www.biotaneotropica.org.br/BN/article/view/1265