Gall-inducing insects from Atlantic Forest of Pernambuco, Northeastern Brazil
Keywords:
biodiversity, Cecidomyiidae, host plants, insect galls, herbivory
Abstract
An inventory of gall inducing insects and their host plants in the Atlantic forest of Pernambuco, northeastern Brazil is presented. Samples of galls and their host plants were taken in six fragments of Atlantic forest. One hundred thirty-six different morphotypes of insect galls on 79 host plant species belonging to 35 plant families and 53 genera were recorded. The host plant families most attacked by galling insects were: Lecythidaceae, Myrtaceae, and Nyctaginaceae. The most frequent galling taxa were Diptera of the Cecidomyiidae family (95%), followed by Lepidoptera and Coleoptera. Galls occurred most frequently on leaves and stems, had globoid and elliptical shapes, green color and absence of trichomes on the external walls. The data indicate an intermediary richness of gall inducing insects when compared to other Brazilian Atlantic forests.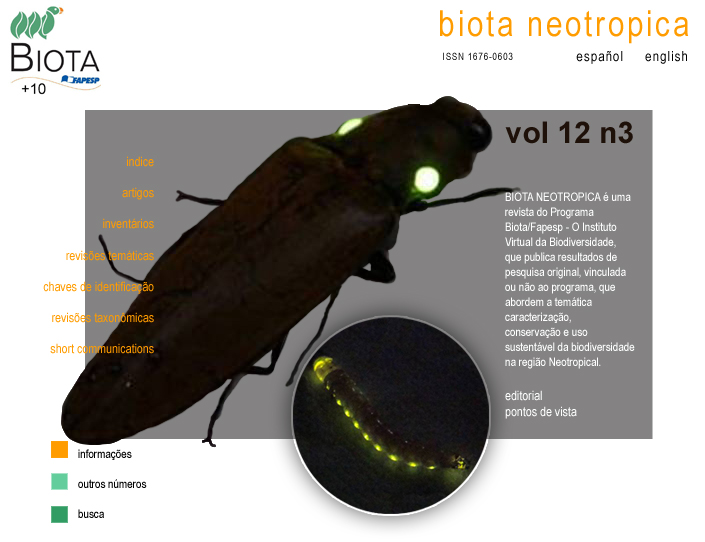 How to Cite
Santos, J. C., Almeida-Cortez, J. S. de, & Fernandes, G. W. (2012). Gall-inducing insects from Atlantic Forest of Pernambuco, Northeastern Brazil. Biota Neotropica, 12(3). Retrieved from //www.biotaneotropica.org.br/BN/article/view/1000