Cladocerans (Crustacea, Anomopoda and Ctenopoda) from Cerrado of Central Brazil: Inventory of phytophilous community in natural wetlands
Keywords:
High Paraná River Basin, High São Francisco River Basin, protected areas, richness, shallow wetlands
Abstract
The aim of this study was to inventory the cladoceran fauna in wetlands located in two large areas that protect fragments of Cerrado. Located in the Brasília National Park-DF and Campo de Instrução de Formosa-GO, these wetlands are formed by upwelling groundwater, with extensive vegetation cover. We found 24 species in the Brasília National Park and 30 in the Campo de Instrução de Formosa. The observed richness reached approximately 80% of the estimated values for both protected areas. Moreover, the community of cladocerans in the kind of environment studied appears to be influenced by depth, with higher values of richness and similarity in wetlands of higher average depths. However, shallow wetlands contributed to the total richness with exclusive species, which shows the importance of these habitats for species richness.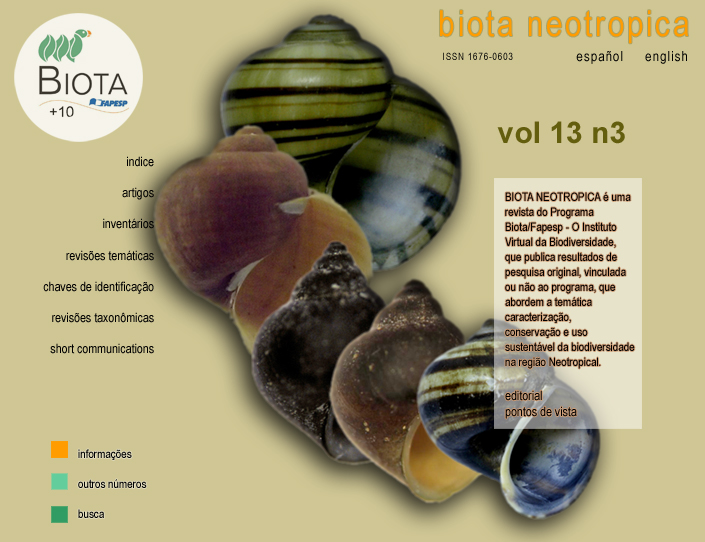 How to Cite
Sousa, F. D. R., Elmoor-Loureiro, L. M. A., & Mendonça-Galvão, L. de. (2013). Cladocerans (Crustacea, Anomopoda and Ctenopoda) from Cerrado of Central Brazil: Inventory of phytophilous community in natural wetlands. Biota Neotropica, 13(3). Retrieved from //www.biotaneotropica.org.br/BN/article/view/1263