Morphological description to identify the seedlings of woody species
Keywords:
native species, cotyledons, eophylls, Atlantic forest
Abstract
The seedling stage is an important stage of the cycle plant because it provides relevant information that can be used in taxonomic and ecological studies. Studies that focus on morphological description reveal characters who often tend to disappear during the development of the plant, but that may be relevant to the differentiation of taxa. Furthermore, through the characterization of the different types of seedlings present in different ecosystems is possible to infer the evolutionary history of plant groups, serving also as subsidy for regeneration studies. Based on these, this study aims to characterize the morphology of seedlings of nine woody species with cotyledons CHR, with a view to identifying the species, providing information for taxonomic, phylogenetic and ecological, besides setting up a dichotomous key. The study area was a forest restinga located on the southern coast of Pernambuco, seeds were collected from mature fruits and sown in trays containing sandy soil, and kept in a greenhouse where his development was monitored daily. As a result, we found that some species, such as Andira fraxinifolia,Casearia javitensis, Eugenia hirta, Maytenus obtusifolia, Protium heptaphyllum and Ximenia american at seedling stage showed different characteristics of young plant as quantity of leaflets, texture and shape of eophylls. These data were similar to those found in other studies for tropical forests. From the results it can be concluded that the different morphological features between the seedling analyzed are important for use in the identification and recognition of the same field, as well as the characterization of its species.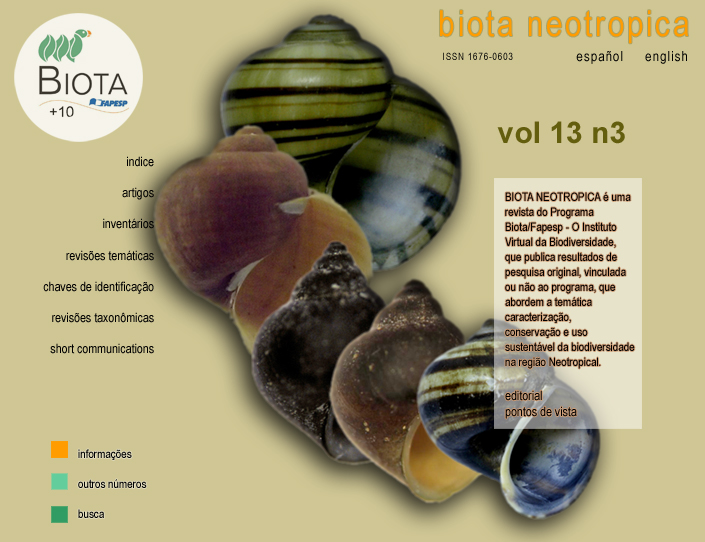 How to Cite
Alves, M. C. J. L., Lima, P. B., Lima, L. F., & Zickel, C. S. (2013). Morphological description to identify the seedlings of woody species. Biota Neotropica, 13(3). Retrieved from //www.biotaneotropica.org.br/BN/article/view/1251
Section
Identification Keys