Bees (Hymenoptera: Apoidea) and flowers in natural forest patches of southern Pantanal
Keywords:
bees, floral visitors, forest fragments, surveys
Abstract
This is the first systematic survey of bees in the Pantanal wetland, Brazil. We recorded bee species and their floral resources within grassland and natural forest edge habitats in the Pantanal. Surveys were conducted during two to four-days per month, for a total of 12 months. Overall, we recorded 56 bee species visiting a total of 63 flowering plants. Asteraceae and Fabaceae presented the highest number of visited species, however Hyptis suaveolens (Lamiaceae) was the plant most visited by different bee species (18). The most generalist native bee was Trigona fuscipennis visiting a total of 17 flowering plant species. Apis mellifera, an exotic bee, visited 27 species. We also report the overlap (37.5%) in the use of floral resources between the exotic bee Apis mellifera and native bee species. Our updated bee checklist here presented includes 10 new records for the State of Mato Grosso do Sul. These data will support management strategies targeting the conservation of plant-pollinator interactions in the Pantanal ecosystem.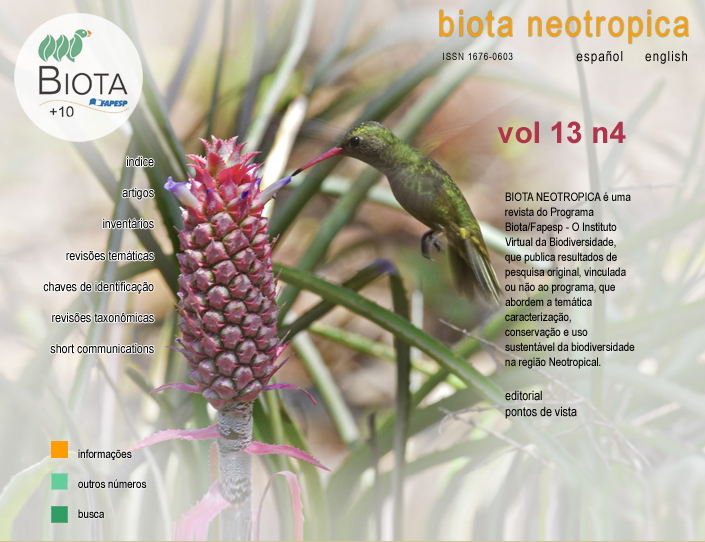 How to Cite
Boff, S., Araujo, A. C., & Pott, A. (2013). Bees (Hymenoptera: Apoidea) and flowers in natural forest patches of southern Pantanal. Biota Neotropica, 13(4). Retrieved from //www.biotaneotropica.org.br/BN/article/view/1240