Jururumberus, a new genus of Orthocladiinae (Diptera: Chironomidae) from Brazil
Keywords:
Chironomidae, Orthocladiinae, Jururumberus, new genus, new species, Brazil, Neotropical region, Mata Atlântica, Amazon
Abstract
Jururumberus n. gen. is erected based on the males of J. arapuca n. sp. from São Paulo State, in southeastern Brazil and J. uatuma n. sp. from the Amazonas in northern Brazil. The genus can be separated from other Orthocladiinae based on the combination of bare eyes, wing, and squama; frons U-shaped, extended ventrally; AR ≤ 0.3, antenna without apical seta; palp short, five-segmented, with sensilla clavata in subapical sensillum coeloconicum; no acrostichals; costa strongly extended; R4+5 ending proximal to M3+4; anal point narrowly triangular with microtrichia only, sitting high on tergite IX; and virga composed of two spines.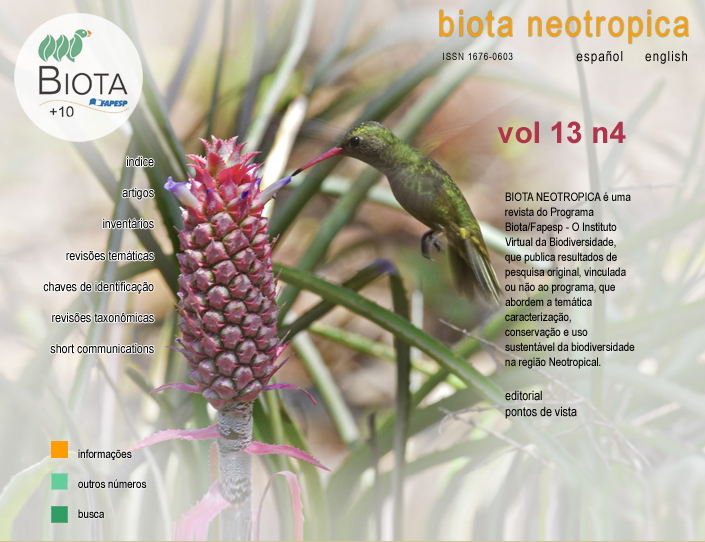 How to Cite
Mendes, H. F., & Andersen, T. (2013). Jururumberus, a new genus of Orthocladiinae (Diptera: Chironomidae) from Brazil. Biota Neotropica, 13(4). Retrieved from //www.biotaneotropica.org.br/BN/article/view/1213