Composition of a snake assemblage inhabiting an urbanized area in the Atlantic Forest of Paraíba State, Northeast Brazil
Keywords:
snakes, Paraíba, urban herpetology, anthropogenic areas
Abstract
The Atlantic Forest of Brazil is one of the most biologically diverse regions in the world, but also one of the most highly threatened, with only around six percent of its original cover remaining. Despite the increase in the number of studies on the ecology of Brazilian snakes during the last two decades, there are still very few works on snake assemblages in the Northeast region and almost nothing about snakes inhabiting urbanized areas in Atlantic Forest domain. Herein we describe the snake assemblage from the urban area of Rio Tinto city in Paraíba State, Northeast Brazil. We present data on composition, distribution and some natural history. Also, we compare the snake diversity of the urban area with the diversity in two nearby natural patches. We recorded 161 individuals of 25 species in 16 genera from the urban area of Rio Tinto and the most common species were Helicops angulatus, Bothrops leucurus, Epicrates assisi, and Philodryas patagoniensis. Most snake species were non-venomous, but some venomous snakes were abundant in the urban area and people must be cautious when dealing with these. Rarefaction curves did not reach stability and new species should be added to the Rio Tinto snake list in future studies.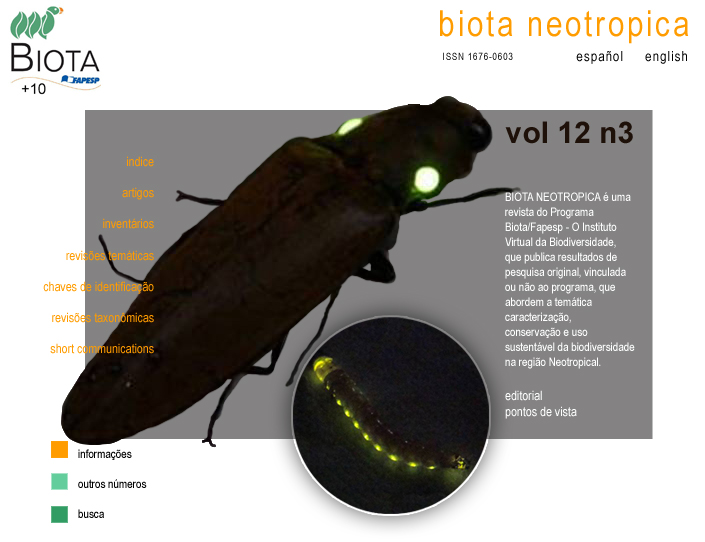 How to Cite
França, R. C. de, Germano, C. E. de S., & França, F. G. R. (2012). Composition of a snake assemblage inhabiting an urbanized area in the Atlantic Forest of Paraíba State, Northeast Brazil. Biota Neotropica, 12(3). Retrieved from //www.biotaneotropica.org.br/BN/article/view/999