Composition and assemblage structure of demersal fish from São Cristóvão beach, Areia Branca, RN
Keywords:
sandy beaches, bottow otter trawl, ichthyofauna
Abstract
Fish assemblages are an important element of sandy beaches, as they are fundamental for these ecosystems' balance of energy. Descriptions of the structure of fish assemblages in the sandy beaches of northeastern Brazil are scarce; this is especially true for the state of Rio Grande do Norte, which northern coast is poorly studied. This study aimed to identify the fish fauna of São Cristóvão Beach and to determine their assemblage structure. Three trawlings, considered as replicates, were undertaken monthly, in the same day, during 10 minutes each time, parallel to the coastal line, and in the direction of current, from February 2010 to January 2011. To describe the general pattern of the fish assemblage, the abundance, frequency and trophic categories of each species were estimated. On São Cristóvão Beach, 8894 individuals were captured, belonging to 58 species, 48 genera and 28 families. The most abundant and frequent species were Pomadasys corvinaeformis (Steindachner, 1868), Cathorops spixii (Agassiz, 1829), Stellifer rastrifer (Jordan, 1889), Pellona harroweri (Fowler, 1917), Stellifer stellifer (Bloch, 1790), Chirocentrodon bleekerianus (Poey, 1867), Larimus breviceps Cuvier, 1830, Menticirrhus americanus (Linnaeus, 1758)and Conodon nobilis (Linnaeus, 1758). The most abundant trophic category was first order carnivores. The ichthyofauna of São Cristóvão Beach is diversified and the most representative families match those observed in sandy beach ecosystems from other Brazilian regions. The results presented here reflect the basic knowledge necessary to conduct further research in the region.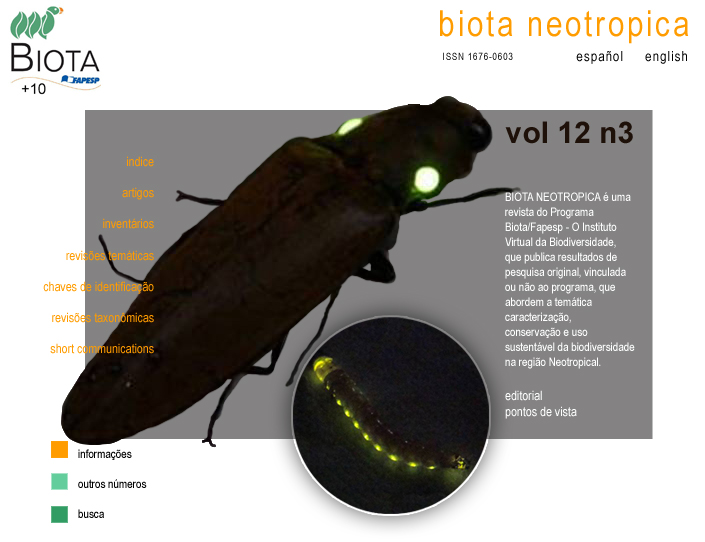 How to Cite
Dantas, N. C. F. de M., Feitosa, C. V., & Araújo, M. E. de. (2012). Composition and assemblage structure of demersal fish from São Cristóvão beach, Areia Branca, RN. Biota Neotropica, 12(3). Retrieved from //www.biotaneotropica.org.br/BN/article/view/993