Zooplankton richness, abundance and biomass of two hypertrophic shallow lakes with different salinity in central Argentina
Keywords:
shallow saline lakes, zooplankton biomass, fish predation, top down
Abstract
The zooplankton of lakes is controlled by biological and physico-chemical parameters. Among the former, predation by fish can determine the replacement of large-sized species by small-sized ones and among the latter, salinity exerts negative effects on richness and abundance. Since it has been suggested that saline lakes without fishes have higher zooplankton biomass than low salinity ones, the aim of this study was to determine the richness, abundance and biomass of zooplankton in two lakes with different salinity and test the hypothesis that in the presence of zooplanktivorous fishes and at equal concentrations of nutrients and chlorophyll-a, saline lakes have higher biomass than those with low salinity. The study was conducted in two shallow lakes of the Province of La Pampa (central Argentina): a subsaline lake and a hyposaline lake, which shared high concentrations of chlorophyll-a and total phosphorus, reduced transparency and presence of planktivorous fish. Zooplankton richness was different and higher in the subsaline lake, whereas abundance and total biomass were similar, even when the taxonomic groups were considered separately. It is suggested that the presence of a halotolerant planktivorous fish controlled the size of zooplankton due to the predation on larger species and prevented the development of higher biomass in the saline lake, which is an important difference from previously recorded situations. This study shows that, regardless of the differences in salinity, the top-down effect in the food chain may have been a factor that equalized the zooplankton biomass by allowing only the development of small species and highlights the possible importance of fish predation in determining chlorophyll-a concentrations and water transparency.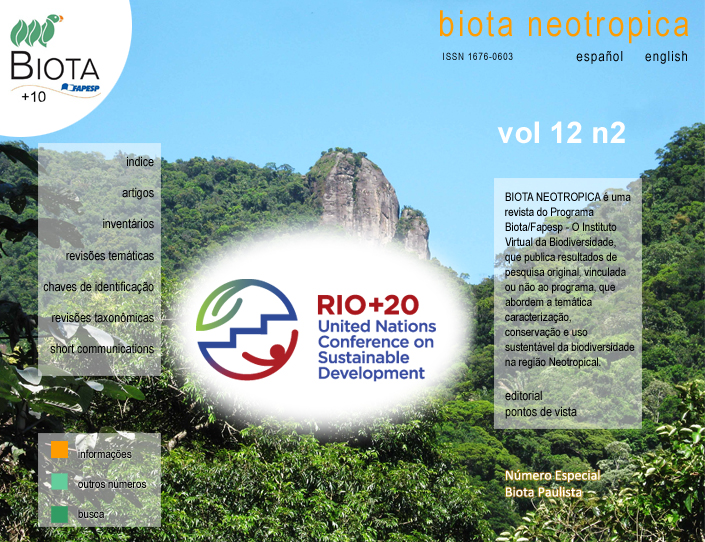 How to Cite
Echaniz, S. A., Vignatti, A. M., Cabrera, G. C., & Paggi, S. B. J. de. (2012). Zooplankton richness, abundance and biomass of two hypertrophic shallow lakes with different salinity in central Argentina. Biota Neotropica, 12(2). Retrieved from //www.biotaneotropica.org.br/BN/article/view/933