Biology of Boeckella poopoensis Marsh, 1906 (Copepoda, Calanoida) in natural conditions in temporary saline lakes of the central Argentina
Keywords:
Boeckella poopoensis, halophilic copepods, saline lakes, temporary lakes
Abstract
Boeckella poopoensis Marsh, 1906 is the dominant copepod in saline lakes from northern Patagonia to southern Peru. It is a tolerant species, which has been registered at salinities between 20 and 90 g.L-1, and is important because it integrates the diet of flamingos and fishes of commercial and sport interest. The aims of this study were to analyze the characteristics of populations of B. poopoensis in the central region of Argentina and to establish their relationships with environmental parameters. Monthly samples during 2007 were taken in four temporary lakes of La Pampa province. Environmental parameters and density, size, biomass, number and size of eggs were determined. The salinity ranged between 13.38 and 32.90 g.L-1. In three lakes that had previously continuously contained water, B. poopoensis was registered throughout the whole study. In the fourth lake, which was filled in January, it was present only when salinity exceeded 15 g.L-1. The population of the lake that was filled differed from that of the other lakes in terms of the density and biomass of adults and copepodites. The number of ovigerous females represented a higher percentage of the population during the colonization of the lake that had been dried and these produced the highest number of eggs. In the three lakes in which B. poopoensis was always recorded, its characteristics were more influenced by the availability of food than by temperature or salinity. It was found that the strategies of the species vary throughout the hydroperiod; at the beginning, thrives when the salinity rises and impedes the presence of less tolerant species. At this point, the production of relatively small eggs is high, allowing rapid colonization. When the lakes become relatively stable, B. poopoensis allocates more energy to reach larger sizes and although egg production is not so high, they are larger, allowing it to maintain stable populations.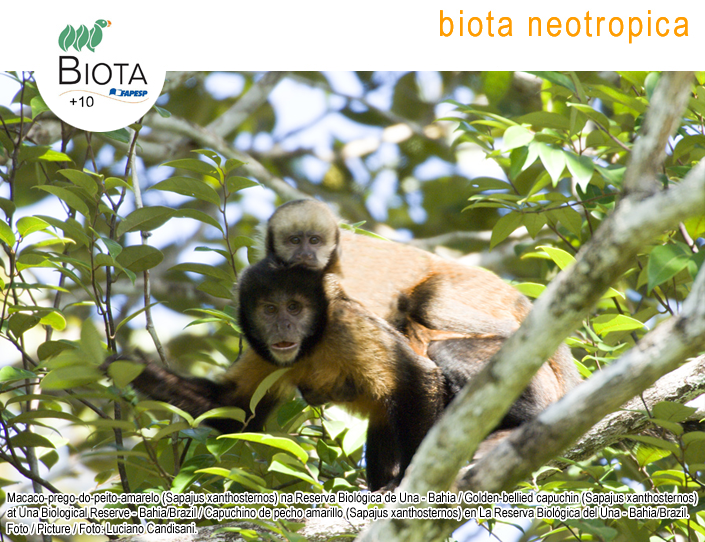 How to Cite
Vignatti, A. M., Cabrera, G. C., & Echaniz, S. A. (2016). Biology of Boeckella poopoensis Marsh, 1906 (Copepoda, Calanoida) in natural conditions in temporary saline lakes of the central Argentina. Biota Neotropica, 16(2). Retrieved from //www.biotaneotropica.org.br/BN/article/view/1384