Benthic macroinvertebrate community structure in a stream of the north-west region of Paraná State, Brazil
Keywords:
composition, biomonitoring, functional groups, aquatic insects
Abstract
This study aimed to survey the benthic macroinvertebrate fauna of a first order stream located in an agricultural area, and to assess the environmental factors involved in the spatial distribution of this community. Invertebrates were gathered in November 2007 at three sampling sites distributed along the Itiz Stream, located in Marialva municipality, Paraná State. At each site, we measured the physical and chemical variables of the water, and then took four samples, using Surber sampler. In order to evaluate the differences in density, richness, diversity and evenness, we employed an ANOVA and a DCA to summarize biotic data. The invertebrates were categorized into functional groups and the BMWP score was applied to calculate the biological integrity of the environment. The faunal composition was represented by 103 taxa distributed across five phyla, of which the highest occurrence was of arthropods, especially insects. Higher density values were observed for Chironomidae, Ephemeroptera, Coleoptera and Trichoptera. The richness, diversity and density, as well as the density of gathering-collectors, were higher in the intermediate course of the stream. The distribution pattern of the taxa was mainly influenced by lentic or lotic characteristics of the sampled sites and microhabitats, as evidenced by the DCA. The BMWP indices indicated that the three sampling sites presented scores of excellent and good water quality. In the Itiz Stream, the presence of preserved marginal vegetation and the distance from urban centers that generate pollution, combined with peculiarities of each sampling site, influenced the structure of the benthic community.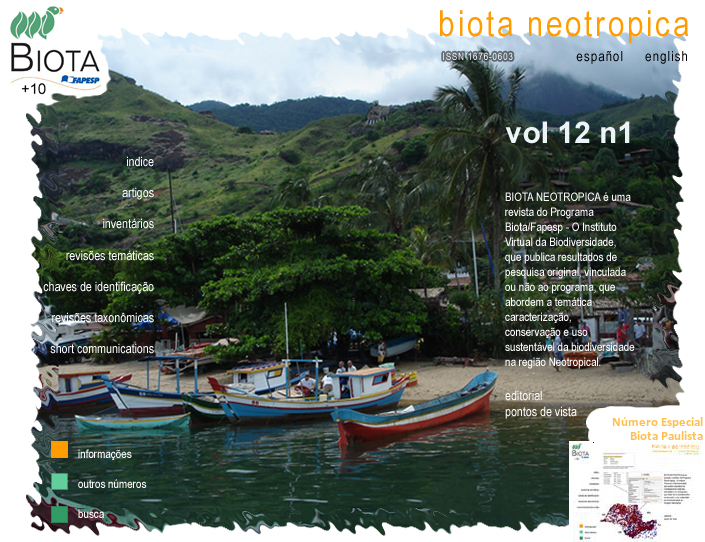 How to Cite
Bagatini, Y. M., Delariva, R. L., & Higuti, J. (2012). Benthic macroinvertebrate community structure in a stream of the north-west region of Paraná State, Brazil. Biota Neotropica, 12(1). Retrieved from //www.biotaneotropica.org.br/BN/article/view/924
Section
Short Communications