Burseramyia braziliensis, a new species of gall midge (Diptera, Cecidomyiidae, Asphondyliini) associated with Swartzia langsdorffii Raddi (Fabaceae)
Keywords:
diversity, gall, neotropical, restinga, taxonomy
Abstract
Burseramyia braziliensis Maia & Fonseca, a new species of Cecidomyiidae (Diptera) that induces leaf galls on Swartzia langsdorffii Raddi (Fabaceae) is described and illustrated (larva, pupa, male and female) based on material from restinga areas of Bertioga, São Paulo, Brazil. Until now, Burseramyia was known from one galling species, Burseramyia burserae Möhn, 1960, restricted to El Salvador. The genus is easily recognizable by the shape of the gonostylus (equally subdivided into toothed and setose portions). The new species differs from the previously described species mainly in the number and shape of terminal papillae (larva), shape of hypropoct (male) and method of pupation.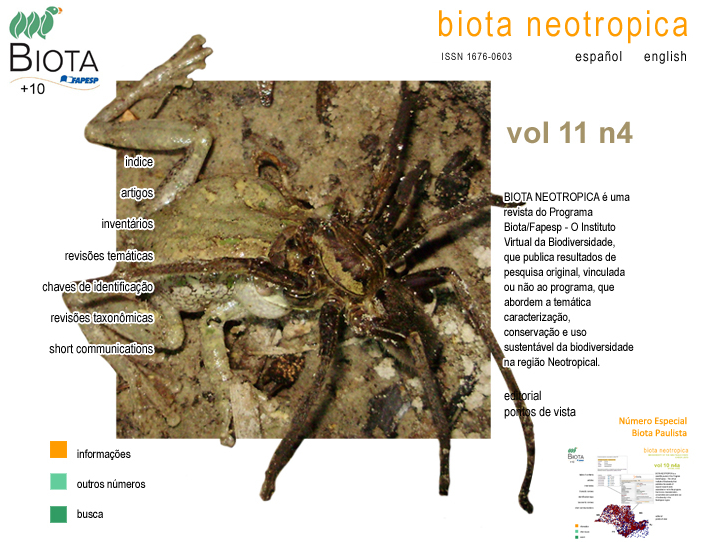 How to Cite
Burseramyia braziliensis, a new species of gall midge (Diptera, Cecidomyiidae, Asphondyliini) associated with Swartzia langsdorffii Raddi (Fabaceae). (2011). Biota Neotropica, 11(4). Retrieved from https://www.biotaneotropica.org.br/BN/article/view/874