Understory structure in two successional stages of a Semi-deciduous Seasonal Forest remnant of Southern Brazil
Keywords:
biodiversity conservation, biological nitrogen fixation, secondary succession, atlantic forest of uruguai river basin, subtropical forest
Abstract
The knowledge of structure and composition of forest strata contributes to understanding the conservation status and dynamics of plant communities. The study of forest understory is important to the knowledge of the succession process. The Seasonal Subtropical Forest remnant named Mato do Silva (27º 55'26" S and 53º 53'15" W) was studied aiming to describe the structure of understory in the late successional forest (LF) and in the young secondary forest (SF), an 11 years old post-agricultural site with canopy dominance of Ateleia glazioveana Baill. The phytosociological survey was carried out through the point quarter method and included individuals of tree and shrub species from 0.5 to 3.0 m of height. The sampling consisted of 384 individuals in LF (67 species) and 284 individuals in SF (20 species). A total of 79 species were observed, and only eight species occurred in both areas. The specific diversity (H') was 3.45 and 2.42 nats in the understory of LF and SF, respectively. The Pielou's evenness index (J) was 0.85 to LF and 0.80 to SF, respectively. Cupania vernalis Camb. and Psychotria leiocarpa Müll. Arg. were the prominent species in the LF while A. glazioveana and Solanum mauritianum Scop. were outstanding in the SF understory. Shade-tolerant and late secondary tree species occurred in large proportion in the LF forest, while pioneers and early secondary tree species predominated in the SF. In addition, certain dominant species in the understory of the SF were absent in the LF understory, such as A. glazioveana, Solanum compressum L. B. Sm. & Downs, Helietta apiculata Bentham and Gledtisia amorphoides (Griseb.) Taubert, which indicates that such species are associated to early stages of forest succession. G. amorphoides is considered an endangered species, and the early successional stages could be necessary for conservation of this species. A decrease in the pH and mineral nutrient levels in the soil was linked to the successional process, indicating the transference of nutrients to the aboveground biomass.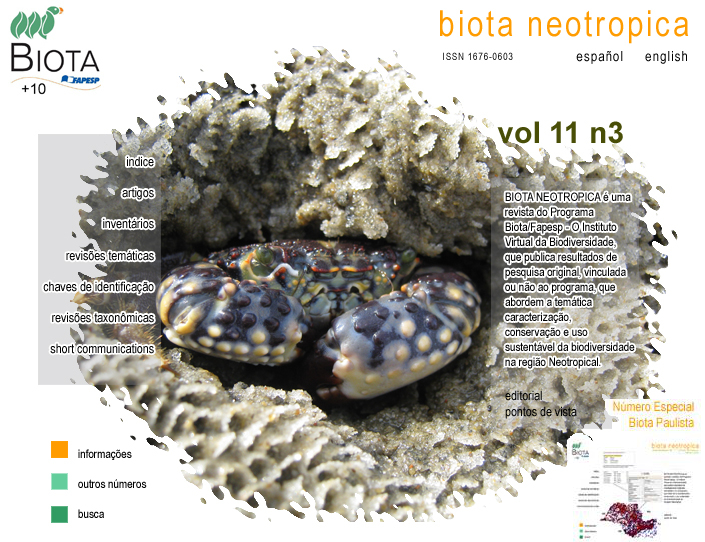 How to Cite
Coelho, G. C., Rigo, M. da S., Libardoni, J. B., Oliveira, R. de, & Benvenuti-Ferreira, G. (2011). Understory structure in two successional stages of a Semi-deciduous Seasonal Forest remnant of Southern Brazil. Biota Neotropica, 11(3). Retrieved from //www.biotaneotropica.org.br/BN/article/view/869