Bat assemblage in savanna remnants of Sonora, central-western Brazil
Keywords:
Cerrado, Chiroptera, diversity of species, Lonchophylla dekeyseri, Mato Grosso do Sul, Tonatia bidens
Abstract
The Cerrado (savanna) is a wide Neotropical formation, but the knowledge on the occurrence and distribution of bat species for this phytogeographic region is scarce, especially in the western portion. Here we address what are the bat species and their relative abundances in a western Cerrado site, municipality of Sonora, Mato Grosso do Sul, Brazil. Bats were mist-netted in eight non consecutive months over the course of two years. Sampled bats (n = 507) belonged to 18 species. The estimator Jackknife 1 estimated 22 species, and diversity (H') was 1.6. Richness and diversity of bats in Sonora were slightly higher than in the southern Cerrado, and similar to or lower than in the central Cerrado. Frugivorous species predominated, as expected, however richness and abundance of nectarivorous were unexpectedly high. Carollia perspicillata was the dominant species. The endemic bat Lonchophylla dekeyseri was highly abundant in Sonora, which enhances the importance of conserving the savanna remnants in this region.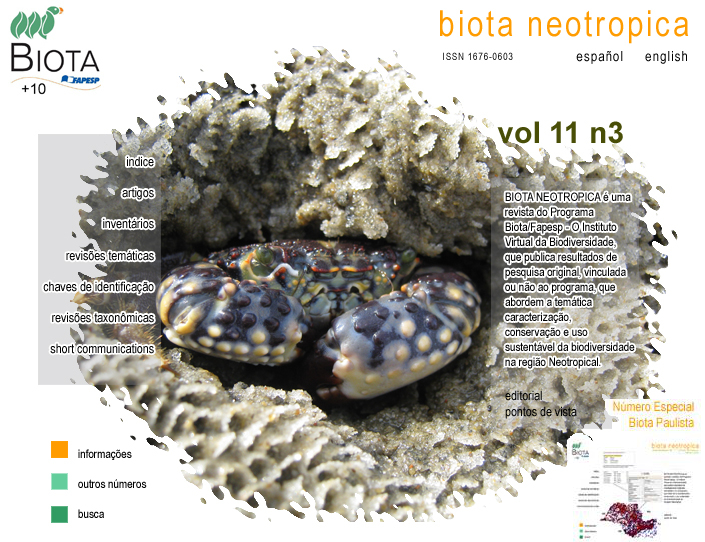 How to Cite
Cunha, N. L. da, Fischer, E., & Santos, C. F. (2011). Bat assemblage in savanna remnants of Sonora, central-western Brazil. Biota Neotropica, 11(3). Retrieved from https://www.biotaneotropica.org.br/BN/article/view/848