Abundance and diversity of palms in the Sustainable Forest District of BR-163 road, Pará, Brazil
Keywords:
amazon forest, arecaceae, forest structure, non-timber products, palm products
Abstract
The abundance and diversity of palm species, as well as its relationship with forest structure were investigated in two study areas in the Sustainable Forest District of the BR-163 road. As such, forty parcels of 0.04 ha (20 × 20 m) were established in a pristine forest in the Amazonia National Park, and another forty parcels in a area submitted to timber logging in the Tapajos National Forest. In each parcel, all the trees with DBH ≥ 10 cm were measured and the adult palms were identified and counted. We verified that although the exploited forest of the Tapajos National Forest is structurally more open than the forest in the national park, it still has a quantity and diversity of palms inferior to the national park, probably due to the dispersal limitation of palms and the relatively recent logging activities. We concluded that exploitation potential of palms in native forests of the region is extremely limited by the natural scarcity of palms in native forests of economic potential, but could be amplified with the deliberate planting of useful species, with benefits for the natural dynamics of the forest.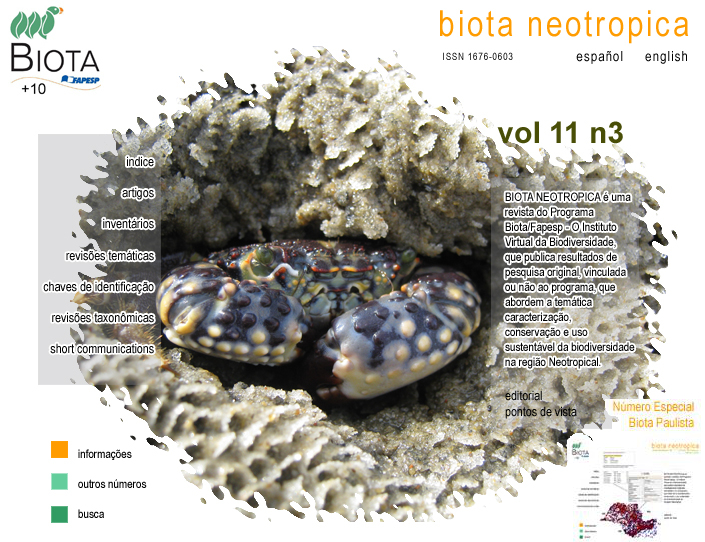 How to Cite
Salm, R., Jardim, M. A. G., & Albernaz, A. L. K. M. (2011). Abundance and diversity of palms in the Sustainable Forest District of BR-163 road, Pará, Brazil. Biota Neotropica, 11(3). Retrieved from //www.biotaneotropica.org.br/BN/article/view/839