Planting coconuts in Indian villages: ethnoecological aspects and evaluation of a "sustainable development" project
Keywords:
coconuts, deforestation, economy, indians, palm, seed dispersal, Tropical Forest
Abstract
Although scientists and policy makers embrace the general concept "sustainable development", there are few who agree on how to carry out sustainable development in specific situations. As such, sustainable development projects among ethnoscientists are widely critiqued as to how well they are inter-culturally formulated. Here we report on a controversial case of planting coconuts in Kayapó Indian villages of southern Pará, Brazil and offer our own self-critique. We began under the premise that reforestation and Kayapó general health/nutrition go hand in hand. Therefore, the flourishing of coconut culture will contribute to forest conservation in the long run, in itself, and simultaneously, maintain good nutrition for the Kayapó people who protect the forest from the threat of non-sustainable practices. We take an ethnoecological approach in discovering how Kayapó behavior affects the growth and flourishing of coconut culture when fostered with external supply. We present the results of two field trips to the Kayapó indigenous territory, where we found socio-ecological factors relevant to the success of our project supporting the culture of coconuts in indigenous villages. First, in November 2007, we visited Kikretum, Moikarakô and Aukre villages (among 10 villages which received coconut seedlings from our support program) to deliver a second shipment of coconut seedlings (the first shipment to these villages took place in April 2006) and quantitatively described one aspect of coconut seed-disperser's (the Kayapó's) behavior. We looked specifically at how the pre-existing coconuts palms were distributed among the Indian families, how they distributed last year's shipment, and how that shipment survived due to ethnoecological factors. Second, in July 2008 we visited Kokraimoro and Pykararankre villages and estimated the position of the previously existing and newly planted coconut palms in relation to other cultivated trees by making use of censuses departing from the village center to their outside limits. In the three Indian villages we visited in 2007, virtually all pre-existing coconut trees belonged to a select few families, and the coconut fruit distribution was, in most cases, highly concentrated among these family members. However, assuming that all the coconut saplings that survived the first year will reach maturity (from the first shipment in April 2006), they represent a remarkable increase in the projected number of adult coconut palms in the three visited villages (48, 195 and 101% in Kikretum, Moikarakô and Aukre, respectively), and a substantial reduction in the inequality in access to coconuts. In the 2008 field trip, we found that the Indians usually plant coconuts very close to their houses where competition with other cultivated trees may hinder the palms development.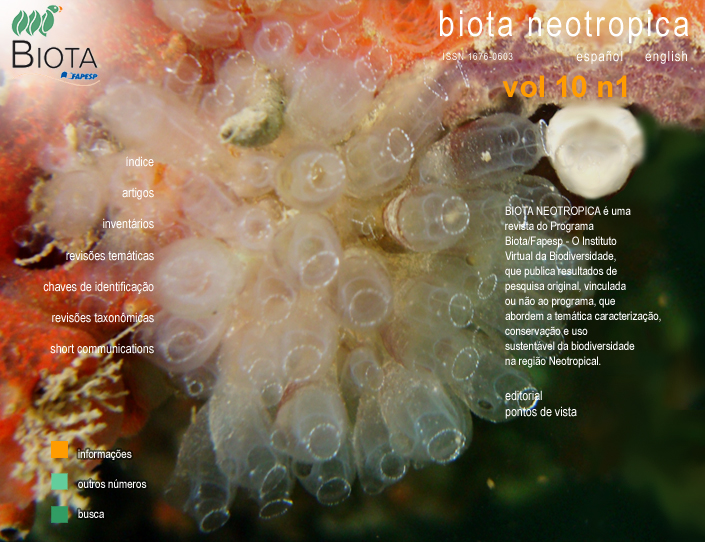 How to Cite
Salm, R., Feder, L., Jalles-Filho, E., & Jardim, M. A. G. (2010). Planting coconuts in Indian villages: ethnoecological aspects and evaluation of a "sustainable development" project. Biota Neotropica, 10(1). Retrieved from //www.biotaneotropica.org.br/BN/article/view/610