Bryophytic and phytogeographical aspects of two types of forest of the Serra do Mar State Park, Ubatuba/SP, Brazil
Keywords:
bryophytes, Restinga Forest, community structure, phytogeographic patterns, southeastern Brazil
Abstract
Bryophytes are indicators of climatic, environmental and ecology conditions and are useful in the characterization of the vegetation types. In this study, we analyzed the brioflora of 2-ha plots, one of Restinga Forest (RF) and the other of Lowland Ombrophilous Dense Forest (LF), located in the Núcleo Picinguaba, State Park of Serra do Mar (São Paulo state, Brazil) aiming to: a) compare the structure of these communities; b) compare the floristic composition between these areas and with other coastal vegetations of southeastern Brazil; c) verify if the bryophytes of the Atlantic Forest lowlands have phytogeographic patterns wider than those of the montane species. In each plot, the bryophytes samples were collected at ten randomized subplots (10 × 10 m). We found 152 species (87 liverworts, 64 mosses and one hornwort), of which 109 occur in RF (40 exclusives) and 112 in LF (43 exclusives). In terms of species richness and taxonomic diversity, LF was more diverse; however, the Simpson and Shannon index of diversity is higher in RF. The floristic composition, life form and ecological groups of light tolerance were significantly different between these two forests. Canopy opening (RF) and number of rocks (LF) were important environmental variables that influenced bryophyte distribution in the study areas. When evaluated in terms of landscape, the subplots of RF and LR form distinct floristic groups; however, at the regional level, the bryophytes of these two forest types have more similarities among themselves than with other Atlantic Forest areas. Bryophyte community observed in the Restinga Forest of Picinguaba shows more similarity with that of the neighbor Lowland Ombrophilous Dense Forest than with other Restinga or coastal formation, such as mangroves and caxetal. In both forests types studied, the majority of taxa (> 90%) is widely distributed in the world, presenting phytogeographic pattern equal to or wider than the Neotropical. Our results corroborate the idea that the RF of Picinguaba is a unique vegetation formation, presenting elements of ombrophilous and dryer forests. In addition, they reinforce the idea that, for the tropical bryophyte species, the phytogeographic patterns are wider in areas of lower altitudes.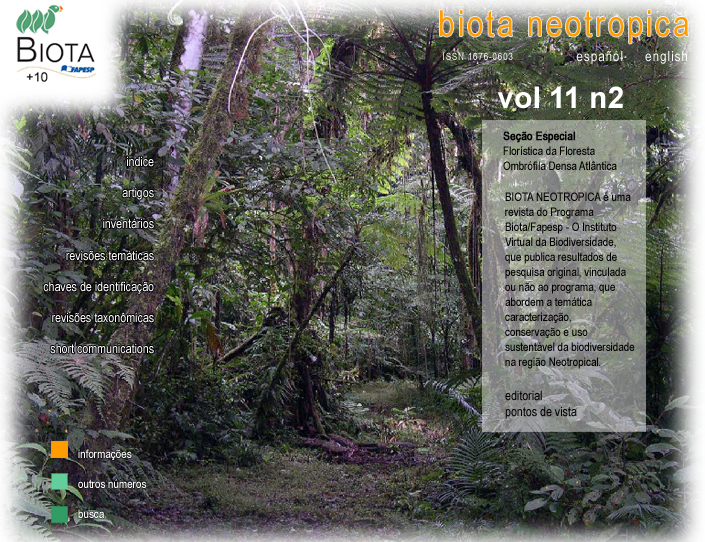 How to Cite
Santos, N. D. dos, Costa, D. P. da, Kinoshita, L. S., & Shepherd, G. J. (2011). Bryophytic and phytogeographical aspects of two types of forest of the Serra do Mar State Park, Ubatuba/SP, Brazil. Biota Neotropica, 11(2). Retrieved from //www.biotaneotropica.org.br/BN/article/view/790
Section
Short Communications