Seed mass of Tecoma stans L. Juss. ex Kunth (Bignoniaceae): effects on emergence and seedling development under full sun and shade
Keywords:
seedling growth, seed mass, seed size, shading, yellow bells
Abstract
The aim of this study was to evaluate the effect of Tecoma stans L. Juss. ex Kunth seeds mass on initial emergence, growth and, seedling development under different light conditions. The seeds were separated in four mass classes and sowed in four replicates of 24 seeds for each class, under full sun and canopy shade. Under sun environment was observed a greater percentage of emergence. Heavy seeds presented the greater percentage of emergence under both environments, but a greater rate was observed under canopy shade. One month after the start of experiments, the seedlings at the shade environment presented 100% of mortality. The growth and development seedlings under full sun were noticed for five months. In this period, only in the first three months was possible to observe the effects of Tecoma stans seeds mass on capacity of seedlings to acquire dry mass. The seedlings biomass partitions were similar among the tested mass class. The seedlings of smaller mass tended to a high specific leaf area in relation to the seedlings from large seeds, mainly in the first three months, resulting in a great acquisition of dry mass by these seedlings. In the fourth month, the specific leaf area did not present any tendency. Because the biggest seeds to give rise seedlings with best initial development than smallest seeds can be considered as species reproductive strategy. To produce seeds of different sizes also can be considered as way of species to spread in many microhabitats.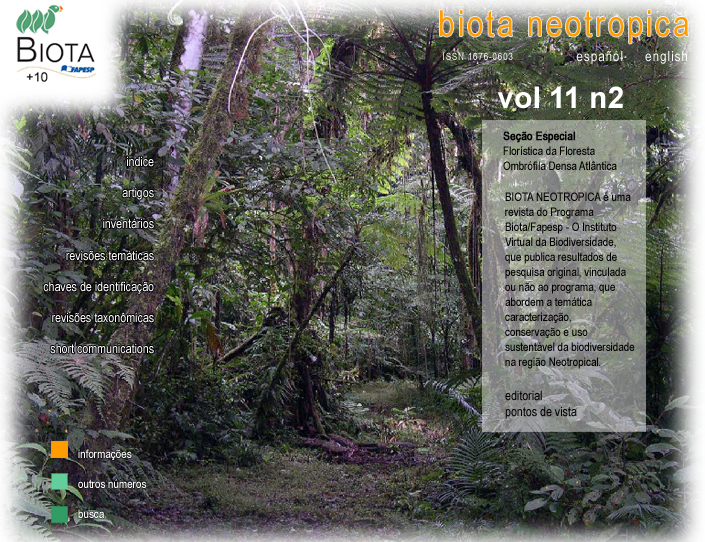 How to Cite
Socolowski, F., Vieira, D. C. M., & Takaki, M. (2011). Seed mass of Tecoma stans L. Juss. ex Kunth (Bignoniaceae): effects on emergence and seedling development under full sun and shade. Biota Neotropica, 11(2). Retrieved from https://www.biotaneotropica.org.br/BN/article/view/785