Bats from Paraíso do Tobias, Northwest of Rio de Janeiro, Brazil
Keywords:
Chiroptera, diversity, inventories, richness
Abstract
The objective of this work is to present the first listing of bats collected in a fragment in Paraíso do Tobias located in the municipality of Miracema, Northwest of the Rio de Janeiro State. Nine nights of samplings were performed with mist nets and complemented with roosts search. A total of 678 captures and recaptures of 29 species were recorded. Platyrrhinus lineatus was the most abundant species, followed by Carollia perspicillata and Desmodus rotundus. Several species recorded, such as Natalus stramineus, Micronycteris hirsuta, and Lophostoma brasiliense, are rare in the Rio de Janeiro State. Despite the reduced sampling effort, we obtained a high richness, with more than 90% of the expected species. We obtained a considerable number of Phyllostominae (two carnivores and four predominantly gleaners insectivorous). In the areas north and northwest 32 species are now recognized.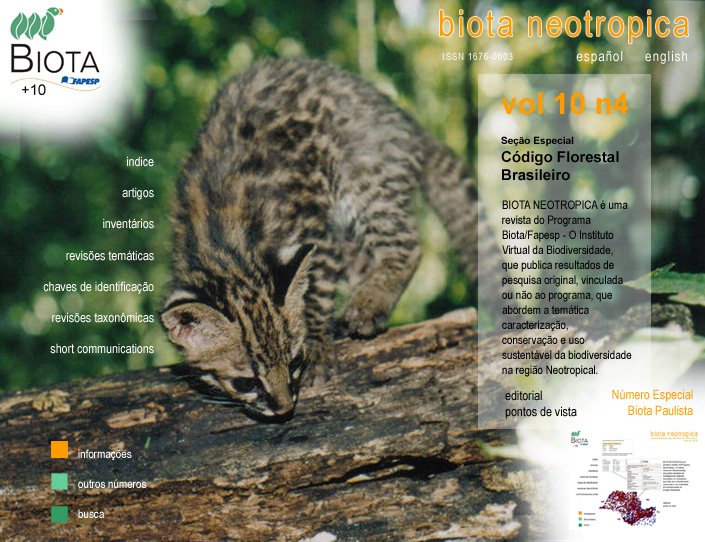 How to Cite
Esbérard, C. E. L., Baptista, M., Costa, L. de M., Luz, J. L., & Lourenço, E. C. (2010). Bats from Paraíso do Tobias, Northwest of Rio de Janeiro, Brazil. Biota Neotropica, 10(4). Retrieved from https://www.biotaneotropica.org.br/BN/article/view/752