Bats from a Montane Forest, Visconde de Mauá, Resende, Rio de Janeiro
Keywords:
high-altitude, Atlantic Rainforest, bat inventory, Chiroptera, Mammalia
Abstract
The goal of this study is to provide a list of bats from Visconde de Mauá, municipality of Resende, Rio de Janeiro State, located 1,300 m above sea level. Fieldwork was carried out during seven nights in November 2005, with captures along flyways, feeding sites, and roosts. A total of 13 species was recorded (10 Phyllostomidae, two Vespertilionidae, and one Molossidae). Seven species are frugivores, two nectarivores, one hematophagous, and three insectivores. Sturnira lilium was the dominant species, with 79.6% of the captures.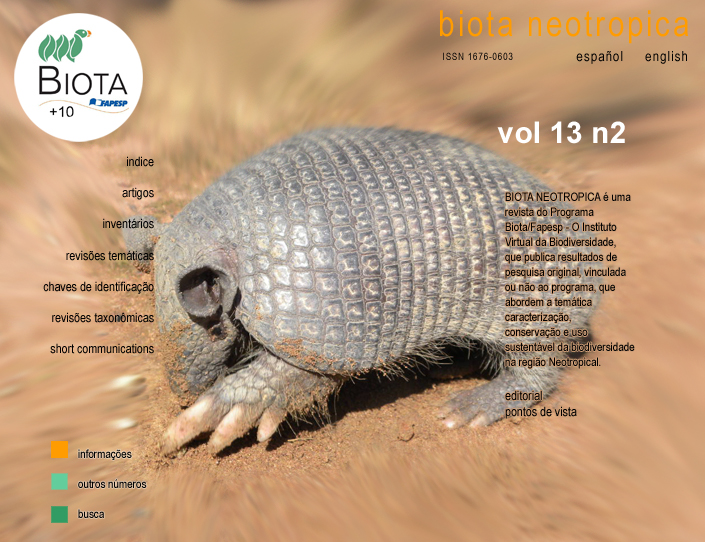 How to Cite
Luz, J. L., Costa, L. de M., Jordão-Nogueira, T., Esbérard, C. E. L., & Bergallo, H. de G. (2013). Bats from a Montane Forest, Visconde de Mauá, Resende, Rio de Janeiro. Biota Neotropica, 13(2). Retrieved from https://www.biotaneotropica.org.br/BN/article/view/1181