Estuarine ichthyofauna of the Paraguaçu River, Todos os Santos Bay, Bahia, Brazil
Keywords:
inventory, estuarine fishes, spatial distribution, effects upstream, brazilian northeast
Abstract
Estuaries are areas of recognized importance in the development and sanctuaries of fishes and also a great source of fishing resources. This article presents an inventory of fishes from the Paraguaçu River estuary, Todos os Santos Bay, Bahia, Brazil. 28 points comprising the saline sections that may exist in a tropical estuary were sampled quarterly from March 2009 to February 2010 with the aid of bottom gill nets, surface gill nets, seine net and casting net. A total of 4.097 individuals were captured, belonging to 7 species of Chondrichthyes and 117 species of Actinopterygii (83 genera and 49 families). Most of the geographical extent of the estuary was sampled by assessing large spatial variability in fish assemblage structure. The curve of species accumulation (rarefaction) had stabilization with ½ of the samples. The general structure of the assemblage is described and commented trough evidences for a new spatial organization of the fish fauna due to dam effects upstream the estuary.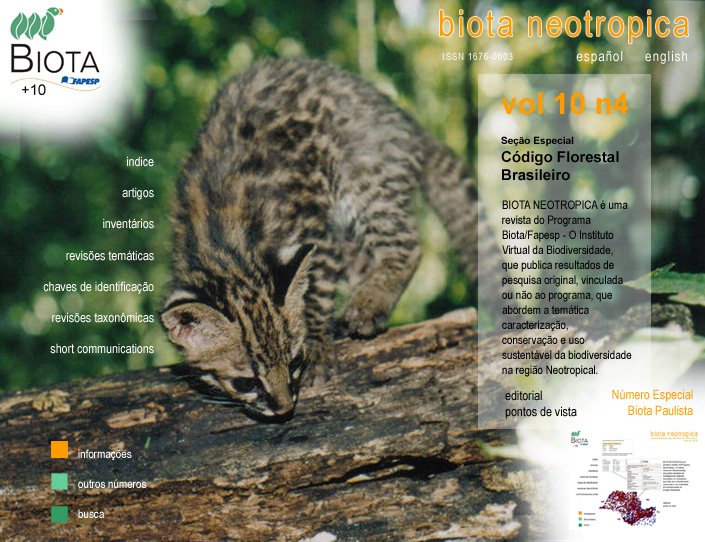 How to Cite
Reis-Filho, J. A., Nunes, J. de A. C. da C., & Ferreira, A. (2010). Estuarine ichthyofauna of the Paraguaçu River, Todos os Santos Bay, Bahia, Brazil. Biota Neotropica, 10(4). Retrieved from https://www.biotaneotropica.org.br/BN/article/view/743