Mites of coffee plants (Coffea spp.) in State of São Paulo: Part II. Prostigmata
Keywords:
Acari, diversity of mite, predaceous mites, phytophagus mites
Abstract
The objective of this study was to carry out a survey of mite species belonging to the suborder Prostigmata on Coffea spp. in different localities of the State of São Paulo. Samples of coffee (Coffea spp.) leaves and branches were collected in 24 municipalities of the State of São Paulo, in different periods of the year. All mites collected were mounted on microscope slides. Whenever possible, mites were identified to species level. Seventy-nine species were identified, belonging to the families Anystidae, Bdellidae, Cheyletidae, Cunaxidae, Diptilomiopidae, Eriophyidae, Eupalopsellidae, Eupodidae, Iolinidae, Meyerellidae, Nanorchestidae, Paratydeidae, Raphignathidae, Stigmaeidae, Tarsonemidae, Tenuipalpidae, Tetranychidae, Trombidiidae, Tuckerellidae e Tydeidae.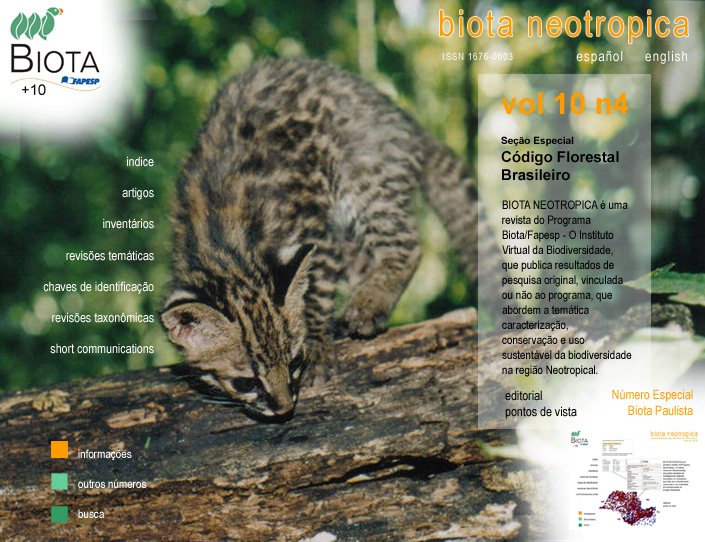 How to Cite
Mineiro, J. L. de C., Raga, A., Sato, M. E., Matioli, A. L., & Berton, L. H. C. (2010). Mites of coffee plants (Coffea spp.) in State of São Paulo: Part II. Prostigmata. Biota Neotropica, 10(4). Retrieved from https://www.biotaneotropica.org.br/BN/article/view/737