Ichthyofauna of the Ribeirão Limoeiro, Cachoeira River Basin, BA
Keywords:
Ichthyofauna, freshwater, diversity of species, spatial distribution
Abstract
The streams of the Eastern Basin are characterized by being small, somewhat complex and endemic fish fauna due to geographical isolation. In this context, a study of species distribution and community structure of stream fish Limoeiro, BA along a spatial gradient in one year, using electrofishing as the collection method. Twenty one fish species were collected totalizing 2264 specimens in four points: two points near the head (P1A and P1M), one in the middle course (P2) and another near the mouth (P3). Characiformes and Siluriformes were the orders more important among the four registered. Some species occurred exclusively at the head (Astyanax sp. and Trichomycterus cf. bahianus) and other near the mouth (Leporinus sp. and Callichthys callichthys). On the other hand, Characidium zebra, Parotocinclus cf. cristatus, Poecilia vivipara, Astyanax sp.1, Rhamdia sp. and Poecilia reticulata occurred all sampling points. Was collected one specie the "status" of vulnerable (Nematocharax venustus) and two exotics (Tilapia rendalli and Poecilia reticulata). About the community structure, the values of the index of richness of "Margalef" and of the index of diversity of "Shannon" were greater in this point P3, then this point were significantly lower value of "Berger-Parker" dominance index. The point with riparian vegetation preserved (P1M) showed a lower average water temperature and the points near the head (P1A and P1M) showed the highest values of dissolved oxygen and surface velocity. Conductivity, width and depth of the medium increased toward the mouth. Several results are in accordance with the current literature dealing with community ecology of neotropical stream fish.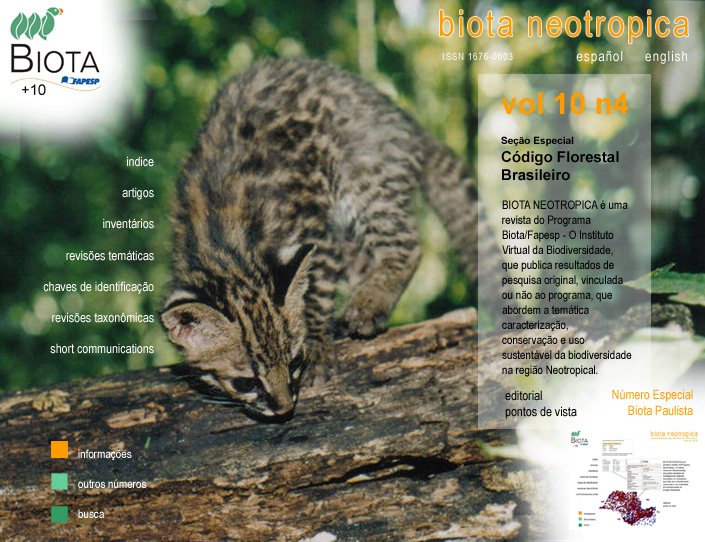 How to Cite
Trindade, M. E. de J., Cetra, M., & Jucá-Chagas, R. (2010). Ichthyofauna of the Ribeirão Limoeiro, Cachoeira River Basin, BA. Biota Neotropica, 10(4). Retrieved from https://www.biotaneotropica.org.br/BN/article/view/725