Potential impacts of the changes proposed in the Brazilian Forest Code on birds
Keywords:
Brazilian Forest Code, birds, permanent preservation area, legal reserve
Abstract
Proposed changes in the current Brazilian Forest Code can lead to the reduction of native vegetation (forests, grasslands and wetlands) impacting directly many bird species. In Brazil, 17 globally threatened species are dependent of riverine forests and eight of these are restricted to the Brazilian territory. A decrease in the width of the area that should be protected as Permanent Preservation Areas (Área de Preservação Permanente - APP) can lead to significant population losses that would put at risk the integrity of populations and, in some cases, the survival of species. In fragmented landscapes, the APPs function as corridors, allowing the dispersion of birds through the matrix. Legal Reserve (Reserva Legal) areas should be maintained complementary to APPs, as the avifauna composition varies in areas located near and far from water bodies. Environmental heterogeneity is crucial to the maintenance of the bird community integrity. Even small patches of forest are important to the avifauna, working as stepping stones that, like the corridors, enable forest birds to move across the landscape. Birds are important predators, dispersers, and pollinators in agricultural ecosystems: in the Tropical region, areas with high bird diversity are significantly correlated with the highest rates of arthropods' removal, including those considered pests. Thus, proposed changes in the current Forest Code may represent a negative impact not only in relation to biodiversity, but also in regarding the agricultural production.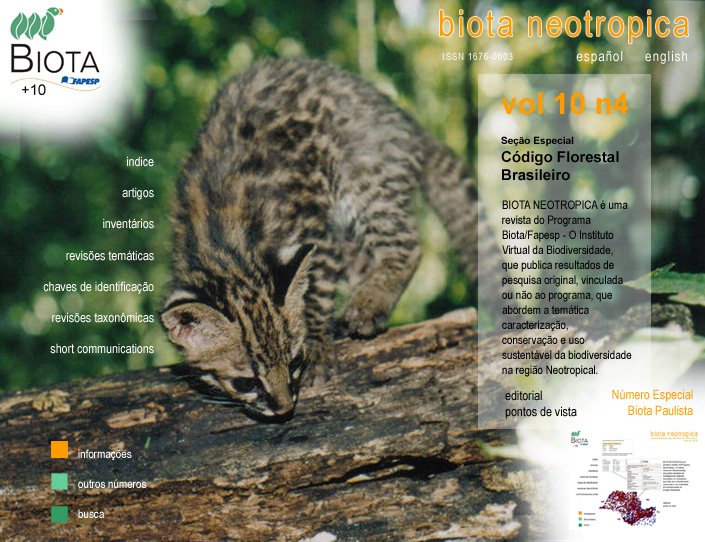 How to Cite
Develey, P. F., & Pongiluppi, T. (2010). Potential impacts of the changes proposed in the Brazilian Forest Code on birds. Biota Neotropica, 10(4). Retrieved from https://www.biotaneotropica.org.br/BN/article/view/715