Potential seed dispersal by Didelphis albiventris (Marsupialia, Didelphidae) in highly disturbed environment
Keywords:
Didelphimorphia, seed dispersal, seed germination, forest restoration, remnant forest, Didelphis albiventris
Abstract
Urban forests are usually isolated and highly disturbed, however they are important shelters for tolerant animal species. Their food habits expose the different ecological roles these animals perform in the habitat. We analyzed the contribution of Didelphis albiventris Lund (1840), as a seed disperser, to the vegetation renewal of an urban forest fragment, describing its frugivorous diet and testing the viability of ingested seeds. Both male and female of white-eared opossum included a vast variety of items in their diet, mainly invertebrates and fruits. Fruits were consumed during all year round and seasonality was not observed. The majority of consumed fruits was from pioneer plant species, which is common in disturbed areas, in accordance to the opossum's opportunistic habits. The viability of ingested seeds, evaluated by linear logistic regression models applied to data from germination tests, was different of the seeds collected directly from ripe fruits; it varied among species, maybe due to the intrinsic characteristics of plant species. As a highly generalist species, D. albiventris can inhabit disturbed environments and then disperse seeds from pioneer plants, where the vegetation must be restored. It is crucial that this process does not depend only on the specialist frugivores, which are frequently absent in urban forest fragments. Therefore, the presence of generalist species of secondary environments has its importance emphasized.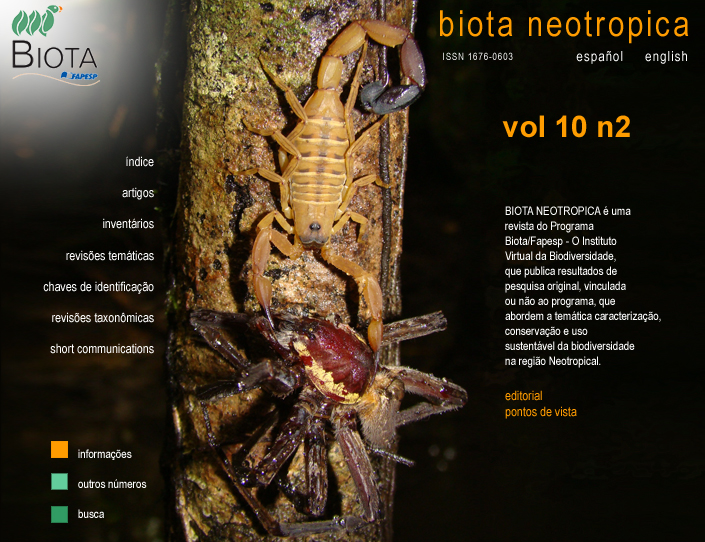 How to Cite
Cantor, M., Ferreira, L. A., Silva, W. R., & Setz, E. Z. F. (2010). Potential seed dispersal by Didelphis albiventris (Marsupialia, Didelphidae) in highly disturbed environment. Biota Neotropica, 10(2). Retrieved from https://www.biotaneotropica.org.br/BN/article/view/674