Floristic and phytophysiognomies characterization of the Serra do Condado, Minas Gerais, Brazil
Keywords:
floristic similarity, canga, Espinhaço range, diversity, Atlantic Domain
Abstract
Little is known about the flora of the Espinhaço Sul range. However, the environmental conservation of such complex has been threatened, mainly due to the potential mineral richness lying there. The aim of this study was to the floristic and physiognomy characterization of Serra do Condado, located in the Serro County, MG. Thus, fortnight field campaigns were carried out during the period of May/2006 to May/2007, in order to collect floristic material and to characterize the area. Furthermore, the value in area of each physiognomic in the constitution of the landscape was made through the software ArGis 9.0 and the floristic similarity among the observed physiognomic aspects, were tested by the Sørensen similarity index. Atlantic Semideciduos Montane Forests, Riparian Forests, Swamps and Woody Shrub Vegetation over "Canga" were found in the area. Semidecidual Forest corresponds to 80% of the local vegetation, presenting 426 species (391 exclusives) distributed in 83 families. The families that had the largest number of species were Fabaceae (40), Asteraceae (30) and Myrtaceae (30). Following came, Woody Shrub Vegetation over "Canga", covers 13% of the studied area, and in it were found 94 species (74 exclusives), distributed among 29 families. Asteraceae (9), Orchidaceae (7) e Bromeliaceae (5) were distinguished by their species abundance in this physiognomy. Riparian Forests are not so representative, constituting only 5% of the forested area. In this physiognomy, 74 species (54 exclusives) belonging to 28 families were found, of these, Fabaceae (7), Piperaceae (4) and Annonaceae (3) were the most representative ones. Due to anthropogenic disturbances, Swamps cover only 2% of the area. As it showed characteristics such as constant hydric saturation it had the highest proportion of exclusive found species, 18 out of 19, being Cyperaceae and Melastomataceae (5) the richest families. The flora found at Serra do Condado was differentiated in relation to their habitats (physiognomies), because the values obtained by the Sørensen index were less than 10% for all other comparisons. This shows how fundamental floristic studies are for knowing the vegetation of areas being both geographically extensive and biologically diverse. The great variety of environment presented and the flora richness associated to this formation aggregate conservation and maintenance value to the Espinhaço Sul range flora, Minas Gerais.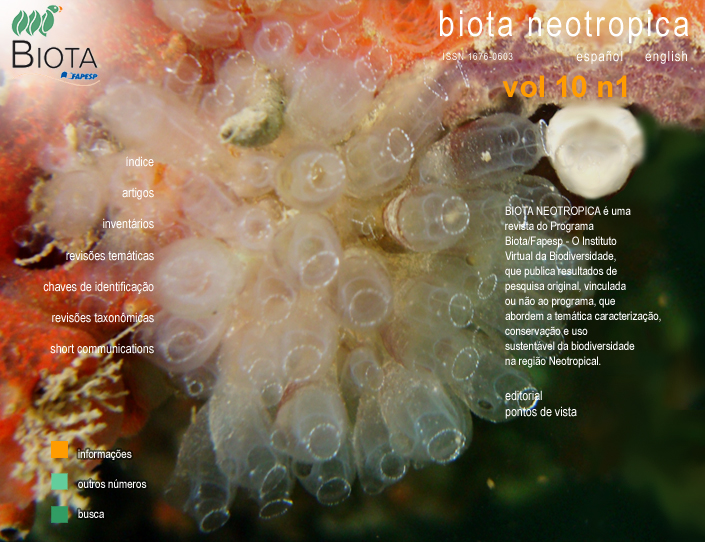 How to Cite
Pifano, D. S., Valente, A. S. M., Almeida, H. de S., Melo, P. H. A. de, Castro, R. M. de, & van den Berg, E. (2010). Floristic and phytophysiognomies characterization of the Serra do Condado, Minas Gerais, Brazil. Biota Neotropica, 10(1). Retrieved from //www.biotaneotropica.org.br/BN/article/view/601