Bats of Frederico Westphalen, Rio Grande do Sul, Brazil (Mammalia: Chiroptera): richness and shelter use
Keywords:
artificial shelters, Upper Uruguay, Chiroptera, Deciduous Seasonal Forest
Abstract
The state of Rio Grande do Sul has, up to the present, records of 38 of the 168 bat species known to occur in Brazil, and several of its regions are severely understudied. In this study, a list of chiropteran species of the municipality of Frederico Westphalen, in the northernmost region of Rio Grande do Sul, is provided, as well as information on the use of human buildings and abandoned mines for seven of the 25 species recorded in the municipality. From October, 2004 to June, 2008, sampling was carried out in eleven areas of the municipality in order to survey the local chiropterofauna. The presence of species was recorded based on captures using mist nets, active searches in shelters, and specimens obtained from local residents. The recorded species belonged to 13 genera, of which 11 belonged to the family Vespertilionidae, whereas the families Molossidae and Phyllostomidae were represented by seven species each. The results obtained in the present study place the Upper Uruguay among the regions of highest species richness in Rio Grande do Sul.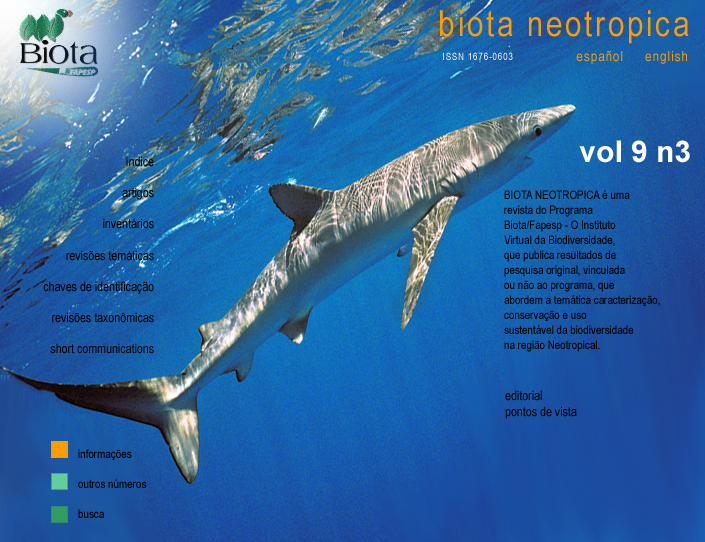 How to Cite
Bernardi, I. P., Miranda, J. M. D., Sponchiado, J., Grotto, E., Jacomassa, F. F., Teixeira, E. M., Roani, S. H., & Passos, F. C. (2009). Bats of Frederico Westphalen, Rio Grande do Sul, Brazil (Mammalia: Chiroptera): richness and shelter use. Biota Neotropica, 9(3). Retrieved from //www.biotaneotropica.org.br/BN/article/view/543