Fish assemblage structure in a marginal lake disconnected from the submedium São Francisco River, Pernambuco
Keywords:
Curralinho, San Francisco, fish, ichthyodiversity
Abstract
Samplings with various fishing devices were undertaken between March 2007 and February 2008, in the Curralinho lake, a marginal pond located in the submedium São Francisco river, aiming at evaluating the fish fauna composition after its isolation from the river channel and water depletion. A total of 4,638 specimens was collected, with a biomass of 129,782.84 g, distributed in 16 families and 47 species from the Orders Characiformes, Cyprinodontiformes, Siluriformes, Perciformes, Gymnotiformes and Clupeiformes. Characiformes were most abundant and 87.3% of the specimens were small (<100 mm) or medium-sized (<200 mm). Among the species collected, 26.7% were constant, 35.6% accessory and 37.8% accidental. Characidae encompasses most of the species and individuals, followed by Acestrorhynchidae. Moenkhausia costae, Triportheus guentheri, Pygocentrus piraya and Prochilodus argenteus were present in all samples. Invertivores and piscivores dominated quantitatively and their biomass indicate a predominance of predators, with detritivores presenting the second greatest biomass. Resident species prevailed, with few individuals of migratory fish belonging to Anostomidae and Prochilodontidae families and Salminus franciscanus. Fish richness, diversity and equitability were relatively high throughout the period of study. It may be concluded that the Curralinho lake is an important shelter, feeding and resting ground for the ichthyofauna, mainly for forage fish that serve as the basis of the trophic chain and fisheries´ sustainability. Therefore, there is an urgent need of environmental policy and management practices development that would preserve habitat integrity and functionability of their role in the conservation of ichthyodiversity of this stretch of the São Francisco basin.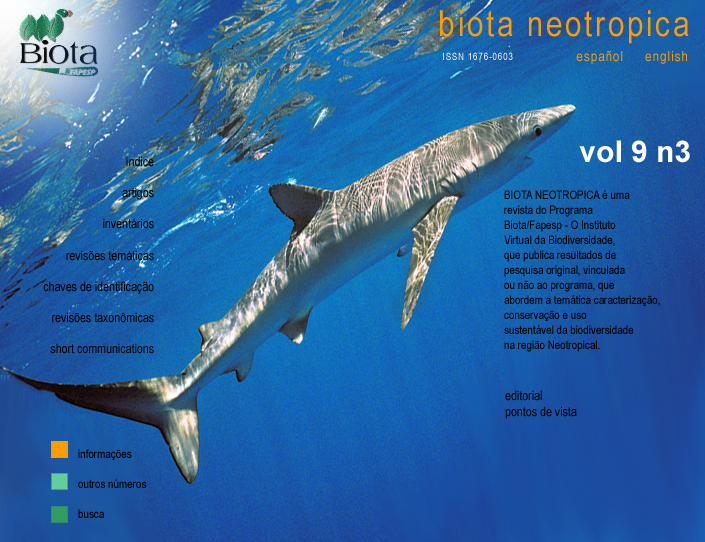 How to Cite
Luz, S. C. S. da, El-Deir, A. C. A., França, E. J. de, & Severi, W. (2009). Fish assemblage structure in a marginal lake disconnected from the submedium São Francisco River, Pernambuco. Biota Neotropica, 9(3). Retrieved from //www.biotaneotropica.org.br/BN/article/view/528