Micro-Hymenoptera associated with Cecidomyiidae (Diptera) galls at Restingas of the Rio de Janeiro State
Keywords:
Cecidomyiidae, Diptera, Hymenoptera, galls, Restingas, diversity
Abstract
Micro-Hymenoptera are very frequent on Cecidomyiidae (Diptera) galls and most important natural enemy of this Diptera. Although their ecological importance, little is known about the faunistic composition of this guild of parasitoids in Restinga areas. The collection of the Museu Nacional comprises a large number of micro-Hymenoptera collected during 16 years and identified at family level. It includes specimens of Aphelinidae, Bethylidae, Braconidae, Elasmidae, Encyrtidae, Eulophidae, Eupelmidae, Eurytomidae, Mymaridae, Platygastridae, Pteromalidae, Scelionidae, Tanaostigmatidae, Torymidae, and Signophoridae, totalizing 15 families. These micro-Hymenoptera are associated with 45 plant species (35 genera and 25 families) and 26 Cecidomyiidae genera, being more frequent on Asphondylia, Bruggmannia, Clinodiplosis, Dasineura, Lopesia, Neolasioptera and Stephomyia galls. The great majority is parasitoid, but some of them, as Tanaostigmatidae and few species of Torymidae and Eulophidae, are inquilinous of galls (phytophagous). Eulophidae, Eupelmidae and Platygastridae were the most frequent families of Hymenoptera, being associated with the greatest number of families, genera and species of plant. Myrtaceae, Fabaceae and Malpighiaceae were the plant families with the greatest number of associated Hymenoptera families. About 135 new records of parasitoids on Cecidomyiidae galls are presented.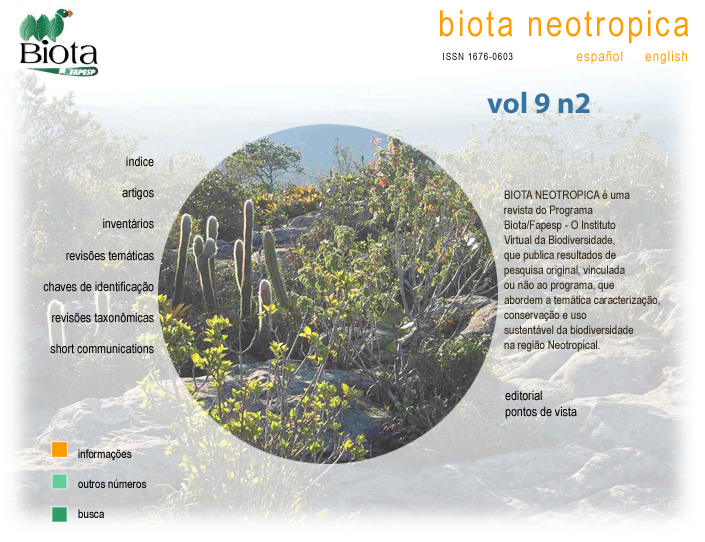 How to Cite
Maia, V. C., & Azevedo, M. A. P. de. (2009). Micro-Hymenoptera associated with Cecidomyiidae (Diptera) galls at Restingas of the Rio de Janeiro State. Biota Neotropica, 9(2). Retrieved from https://www.biotaneotropica.org.br/BN/article/view/499