Populational aspects of Serrapinnus notomelas (Eigenmann, 1915) e Bryconamericus stramineus Eigenmann, 1908 (Characiformes: Characidae) in streams of Ivinhema River Basin, Upper Paraná Basin
Keywords:
ecology, fish, weight, population parameters
Abstract
The knowledge of population parameters for Neotropical fish species is a great challenge to ichthyology. In this paper we analyzed the weight/length relationship, parameters of growth, mortality, recruitment and evaluate the influence of seasonal variation of rainfall on the mean weight of individuals and the pattern of recruitment for two fish species in streams of the Ivinhema River Basin-MS. The samples were done monthly from January to December 2002, with standardized effort between the sites. The equation that describe the weight/length relationship for Serrapinnus notomelas is (weight = 0.0000191 * length standard3.106) and for Bryconamericus stramineus is (weight = 0.0000080 * length standard3.193), being the constant b significantly higher than three. The asymptotic length for S. notomelas was 42.1 mm and for B. stramineus was 54.7 mm. Serrapinnus notomelas presented larger natural mortality (Z = 1.08) than B. stramineus (Z = 0.93) and higher growth rate (S. notomelas k = 0.60 and B. stramineus k = 0.54); and S. notomelas presented a lower longevity (4.99 years) than B. stramineus (5.54 years). The Index of growth performance (ø) calculated for S. notomelas was 3.027, while for B. stramineus was 3.208. We verified significant seasonal variation in the adjusted mean weight for both studied species. The recruitment pattern for S. notomelas and B. stramineus also follows a seasonal pattern, with two recruitment picks in the year, and S. notomelas presented a recruitment pick in March and other in June, while B. stramineus presents a pick in April and other in October.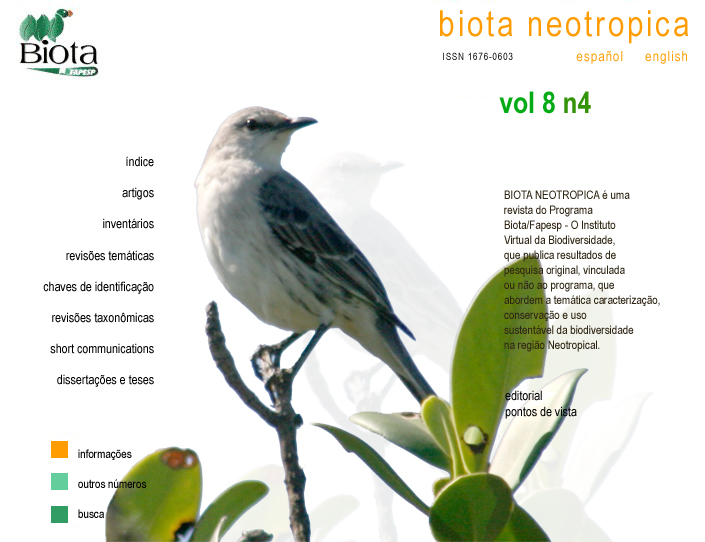 How to Cite
Lourenço, L. da S., Súarez, Y. R., & Florentino, A. C. (2008). Populational aspects of Serrapinnus notomelas (Eigenmann, 1915) e Bryconamericus stramineus Eigenmann, 1908 (Characiformes: Characidae) in streams of Ivinhema River Basin, Upper Paraná Basin. Biota Neotropica, 8(4). Retrieved from //www.biotaneotropica.org.br/BN/article/view/438