The spatial and temporal dimension of fish diversity of the vegetated littoral zone of marginal lagoons of the Cuiabá river floodplain, Pantanal, Brazil
Keywords:
effect of dry season, abundance distribution, spatial distribution, local extinction
Abstract
The present work has evaluated the spatial and temporal distribution of fish species richness of the vegetated littoral zone of 15 marginal lagoons in the floodplain of the Cuiabá River, Pantanal. The lagoons were sampled in three periods along of the dry season (June, September and December of 2005), through nine sieve throws distributed systematically at a minimum distance of five meters from each other. We caught 12,784 individuals belonging to seven orders, 21 families and 98 species of fish. Most of the captured species were rare and presented restricted geographical distribution. Drought intensification did not affect the spatial species distribution and the loss of species as dry season proceeded was proportional in the different orders. The total abundance of individuals as well as the richness varied with time. Rarefaction curves indicated that the reduction in richness was an artifact of the reduction in the abundance of individuals. When we compared the estimated richness under a same abundance level we did not find difference among the richness of species in the beginning and at the end of the dry season. Richness estimators indicated that to distribute the samples in the time was an appropriate strategy to reduce the problem of the false absences and to improve the efficiency of the sampling. Thus, our results suggest that for the design of reserves in the Pantanal, areas with a large number of lagoons of different forms and sizes would conserve the regional fish diversity, as the distribution of most small size species is restricted to a few lagoons.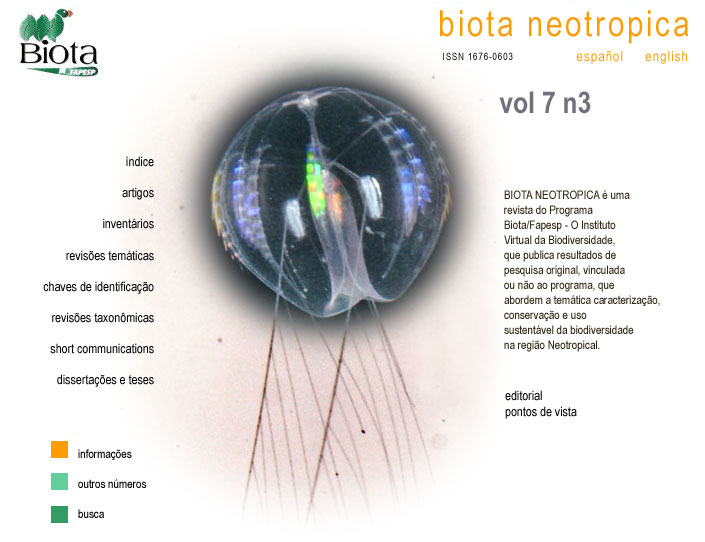 How to Cite
Junior Baginski, L., Florentino, A. C., Fernandes, I. M., Penha, J. M. F., & Mateus, L. A. de F. (2007). The spatial and temporal dimension of fish diversity of the vegetated littoral zone of marginal lagoons of the Cuiabá river floodplain, Pantanal, Brazil. Biota Neotropica, 7(3). Retrieved from https://www.biotaneotropica.org.br/BN/article/view/352