Seasonal and interpopulational morphometry variation of Platyscytus decempunctatus (Carvalho 1945) (Heteroptera: Miridae)
Keywords:
Platyscytus decempunctatus, morphometry, secondary sexual traits, dissimilarity
Abstract
A morphometry study was carried out with Platyscytus decempunctatus (Carvalho 1945) collected during the dry and wet seasons in Viçosa county, state of Minas Gerais, Brazil and in other 23 counties from the states of Minas Gerais and Rio de Janeiro in Brazil. A total of 30 males and 30 females were collected in Viçosa at each season and additional insects (20 males and 20 females) were collected at each county surveyed. The analysis with 27 morphological traits was carried out to verify the seasonal influence, differences between sexes and among populations in specimens from Viçosa. The females of P. decempunctatus collected in Viçosa were larger than the males in most of the traits evaluated in both seasons (dry and wet). The males showed only two body traits larger than the females. Interpopulational morphometry differences of P. decempunctatus were significantly correlated with geographic distance among sampling sites.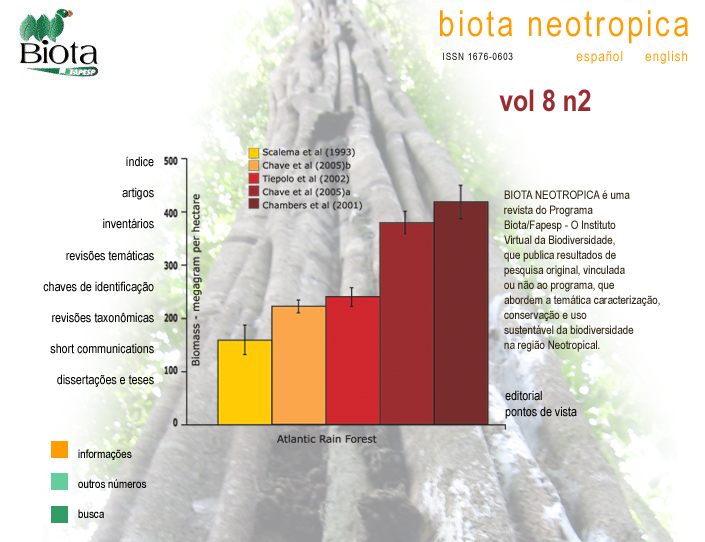 How to Cite
Pires, E. M., Guedes, R. N. C., Serrão, J. E., & Ferreira, P. S. F. (2008). Seasonal and interpopulational morphometry variation of Platyscytus decempunctatus (Carvalho 1945) (Heteroptera: Miridae). Biota Neotropica, 8(2). Retrieved from https://www.biotaneotropica.org.br/BN/article/view/391