Ophiuroidea (Echinodermata) from La Coronilla-Cerro Verde (Uruguay): a new record for the Uruguayan coast
Keywords:
Amphiodia, Amphioplus, Amphipholis, Cerro Verde, marine protected area
Abstract
La Coronilla-Cerro verde has been proposed as the first marine protected area in Uruguay. As part of a detailed benthic biodiversity assessment at the reserve, we analyzed the ophiuroid fauna collected in the intertidal and shallow subtidal during 2005 and 2006. Three species of ophiuroids were identified: Amphioplus lucyae, Amphipholis squamata and Amphiodia sp. Only two species belonging to the genus Amphiodia (A. pulchella and A. planispina) have been previously mentioned for Uruguayan waters, indicating that the unidentified species found in this study constitutes a previously unreported species.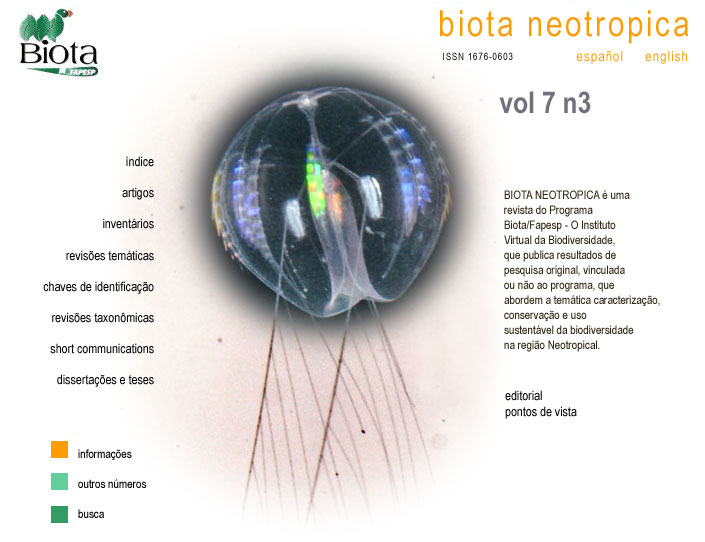 How to Cite
Carranza, A., Borges, M., Rodríguez, M., & Borthagaray, A. I. (2007). Ophiuroidea (Echinodermata) from La Coronilla-Cerro Verde (Uruguay): a new record for the Uruguayan coast. Biota Neotropica, 7(3). Retrieved from //www.biotaneotropica.org.br/BN/article/view/323