Araneofauna (Arachnida; Araneae) from Parque Estadual do Turvo, Rio Grande do Sul, Brazil
Keywords:
spiders, inventory, Neotropical, biodiversity
Abstract
The araneofauna of the Neotropical region can be considered undersurveyed and lacking standardized inventories that can be used as a base for biodiversity studies. Spiders are recognized as important components of forest ecosystems and appear to be good organisms for studies concerning biodiversity standards. A survey was carried out in the Parque Estadual do Turvo, Rio Grande do Sul, Brazil to determine the richness and composition of the spider fauna. The Park is a protection area that includes the only remainder of the Floresta do Alto Uruguai in Brazil. Four expeditions were conducted over the period of two years, in Spring and Autumn (2003-2005). The main sampling technique was the beating tray, sampling the vegetation along the trails inside the park. Additionally, pitfall-traps, Winckler extractors, nocturnal manual collecting and random samplings were used. Shannon-Wiener (H') diversity indices and rarefaction curves were calculated for the beating tray samplings. A total of 8724 spiders belonging to 37 families were collected. Of these, 34% (2946) were adults, distributed in 31 families, 157 genera and 447 morphospecies. The richest families were Salticidae (23%) followed by Araneidae (18%), Theridiidae (16%) and Thomisidae (9%). In the beating tray samples 29 families were recorded. The most abundant families (including young individuals) were Salticidae (23%), Araneidae (18%), Thomisidae (14%), Theridiidae (12%) and Anyphaenidae (12%). Nineteen species presented a percentage higher than 1% of the total of collected adult individuals. The most abundant being Thwaitesia affinis O. P.-Cambridge, 1881 (Theridiidae), Tariona sp.1 (Salticidae) and Misumenops argenteus (Mello-Leitão, 1929) (Thomisidae). The Spring periods revealed more adult individuals and species and the Shannon-Wiener (H') diversity was considered higher in the periods of Autumn. The rarefaction curves did not reach asymptote, suggesting the existence of non-sampled species. The spider richness registered in this survey is the greatest observed for Rio Grande do Sul, and the second greatest for Brazil. These information show the importance of this ecosystem for biodiversity conservation in Brazil.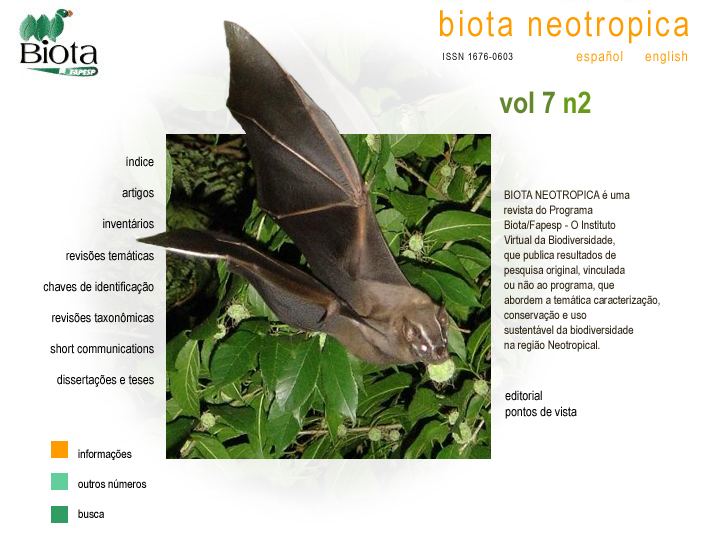 How to Cite
Podgaiski, L. R., Ott, R., Rodrigues, E. N. L., Buckup, E. H., & Marques, M. A. de L. (2007). Araneofauna (Arachnida; Araneae) from Parque Estadual do Turvo, Rio Grande do Sul, Brazil. Biota Neotropica, 7(2). Retrieved from //www.biotaneotropica.org.br/BN/article/view/299