High interpopulational genetic diversity of Oryza glumaepatula Steud. (Poaceae) assessed with microsatellites
Keywords:
genetic diversity, genetic structure, Oryza glumaepatula, microsatellites, mating system, populations
Abstract
Microsatellite markers were used to characterize the genetic diversity within and among seven natural populations of Oryza glumaepaula. Six of these populations originated from the hydrographic basin of the Amazon and one from Rio Paraguay in the Pantanal Matogrossense. Using seven microsatellite loci, the following intrapopulation genetic diversity parameters were estimated on average: 1.98 alleles per locus, 56.2% polymorphic loci, Ho = 0.026 and He = 0.241. High interpopulational differentiation was noticed by examining Wright's fixation index and Slatkin's divergence parameter (F ST = 0.715 and R ST = 0.595, respectively), as well as a high level of total inbreeding (F IT = 0.963), greatly influenced by the mating system (F IS = 0.858). No population was in Hardy-Weinberg equilibrium, due to the prevailing autogamic mating behavior, as also indicated by the average apparent outcrossing rate observed: t a = 0.055. Consequently, among populations gene flow was practically absent, which has contributed to the high interpopulational genetic divergence. In general, very low or null outcrossing rates were found in the Amazonian populations. However, population PG-3 from Rio Paraguay, originated from Pantanal Matogrossense, showed a higher outcrossing rate (13.2%), indicating a mixed mating system with the predominance of self-fertilization. Since intrapopulation diversity was low, results indicate that sampling a large number of populations is the most appropriate strategy for the ex situ conservation of this species. For in situ conservation, taking in consideration the allelic richness, the following populations are indicated as priority: PG-3, TA-3, SO-17, and NE-7, from the hydrographic basins of the rivers Paraguay, Tapajos, Solimoes and Negro, respectively.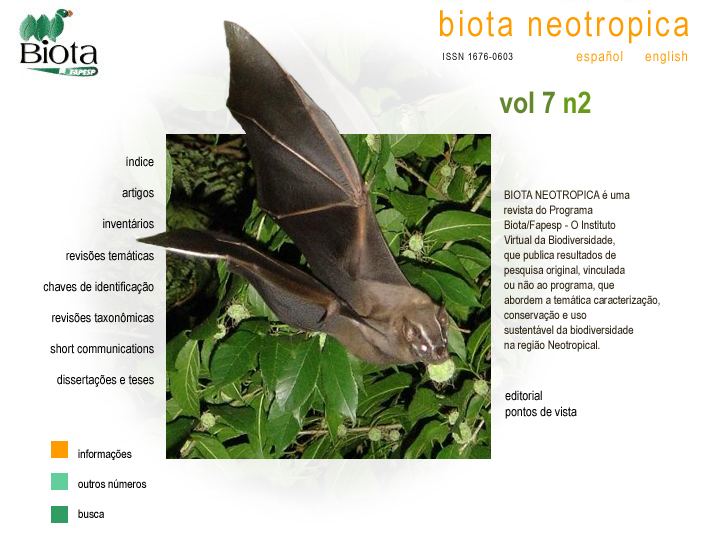 How to Cite
Silva, C. M., Karasawa, M. M. G., Vencovsky, R., & Veasey, E. A. (2007). High interpopulational genetic diversity of Oryza glumaepatula Steud. (Poaceae) assessed with microsatellites. Biota Neotropica, 7(2). Retrieved from //www.biotaneotropica.org.br/BN/article/view/295