Occurrence record of two potamotrigonids species in the Upper Paraná River and some aspects about their biology
Keywords:
geographic distribution, biological invasions, freshwater stingrays, Potamotrygonidae, Paraná River
Abstract
The freshwater stingrays of the Potamotrygonidae family are elasmobranchs restricted to the major river systems of South America. In Brazil, the occurrence of potamotrigonids is known in all the Amazonian Basin, some rivers of the Northeastern region and in the Paraguay-Paraná Basin. The upper course of the Paraná River, separated in the past from the medium and low courses by Sete-Quedas Waterfalls, today is connected to these areas due to the dams constructed in great part of its course. The dams had destroyed natural barriers, making possible the dispersion of many species of aquatic organisms to the headwaters of the Paraná River. We report the occurrence record of two species of stingrays in the Upper Paraná River, which were not part of native fauna about two decades ago.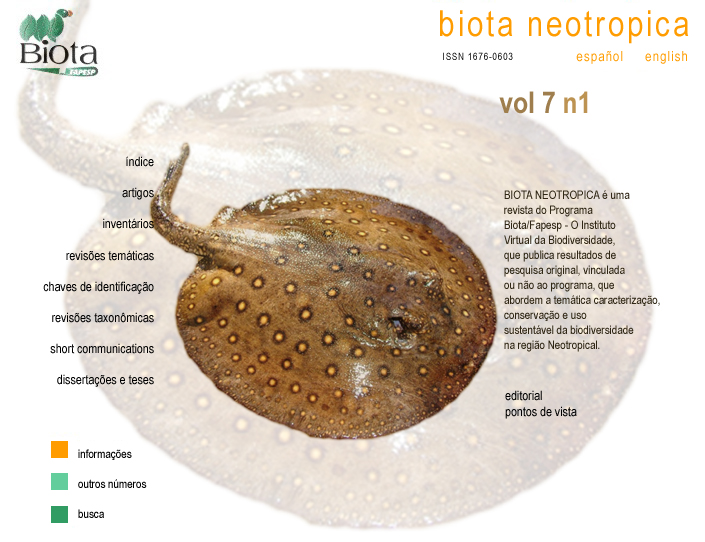 How to Cite
Garrone Neto, D., Haddad Jr., V., Vilela, M. J. A., & Uieda, V. S. (2007). Occurrence record of two potamotrigonids species in the Upper Paraná River and some aspects about their biology. Biota Neotropica, 7(1). Retrieved from https://www.biotaneotropica.org.br/BN/article/view/264
Section
Short Communications