Ecological characteristics of the Morro Grande Forest Reserve and conservation implications
Keywords:
Morro Grande Forest Reserve, Atlantic Forest, biodiversity, conservation, Atlantic Plateau
Abstract
In the last five years, the Morro Grande Forest Reserve (MGFR) has been systematically surveyed for different taxonomic groups. More than 13.000 individuals from 673 species of trees, nonvolant small mammals, birds, reptiles, anurans and orb-weaver spiders were sampled. The comparative analysis of the results reveals consistent biodiversity patterns which concern four central issues: i) the MGFR is situated in an ecotone location with the influence from the ombrophilous and mesophilous forests and also from the interior savanna region; ii) all taxonomic groups presented significant differences in species composition and/or richness when medium to old secondary forests (80 to 90 years of regeneration) were compared with old-growth forests (or "mature" forests), where only selective logging were observed; this should contribute to a high gamma diversity, given that the MGFR is a complex mosaic of vegetation in different successional stages; iii) partly due to the two first factors, the MGFR presents a consistent pattern of high species diversity when compared with other areas from the Atlantic Forest region; iv) due to its location in a high human density matrix, the MGFR is being submitted to strong disturbances, mostly related with hunting, vegetation exploitation, and alien species invasion. The conservation of this unique biota will depend on the establishment of a management plan that can take advantage of the proximity from the city of São Paulo, specially for projects of education, tourism and scientific research, and that could control the problems of exotic species, hunting, vegetation exploitation and inappropriate use of the MGFR surrounding.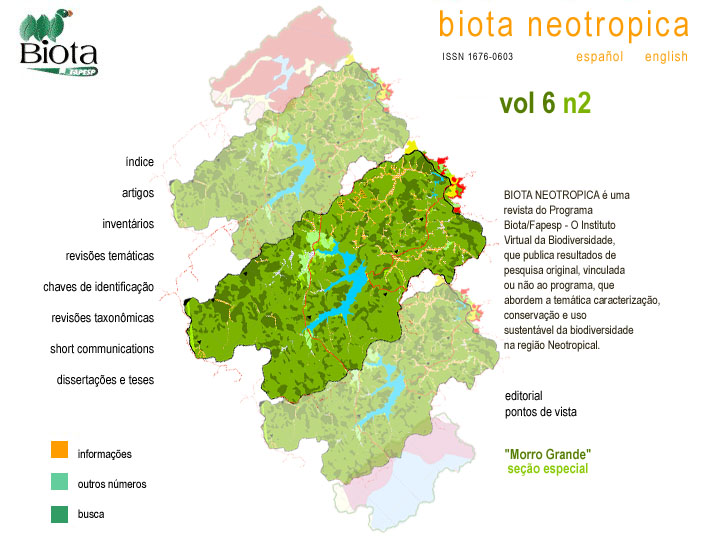 How to Cite
Metzger, J. P., Alves, L. F., Pardini, R., Dixo, M., Nogueira, A. do A., Negrão, M. de F. F., Martensen, A. C., & Catharino, E. L. M. (2006). Ecological characteristics of the Morro Grande Forest Reserve and conservation implications. Biota Neotropica, 6(2). Retrieved from //www.biotaneotropica.org.br/BN/article/view/190